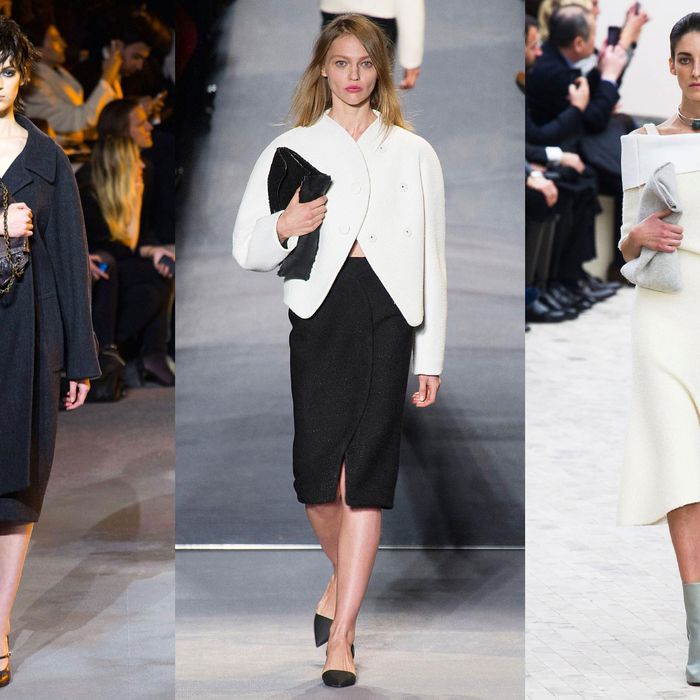 The handbag — the modern woman's daily companion — is often relegated to afterthought status on the runways, so routinely toted in one hand, lazily by the side, that even the slightest styling trick can make one sit up and pay attention. So when Céline, Proenza Schouler, and Marc Jacobs, all acclaimed fashion houses with heavy-hitting accessories cred, sent out models tightly clenching their handbags to their chests, was it a coincidence? We think not. 
On one hand, it makes sense for the brands to prominently show off an expensive item. On the other, these bags are all extensions of stylish selves and keepers of beloved possessions: To cling close to them evokes true emotion, not mere purchasing pleasure.
At Céline, the gesture was almost romantic, suggesting pure love for these goods, like a child holds a teddy bear. At Marc Jacobs, the bag was held considerably closer to the body, the intimacy conjuring up ideas of ownership, as if this one piece was all a woman had and she was holding on for dear life, lest it be taken from her. And at Proenza Schouler, the models exuded a cool confidence as they clung to their spectacular shearling clutches like the shining beacons they are — proudly pledging allegiance to the bag. While this gesture may not prove practical in everyday behavior (just imagine the difficulty of balancing clutch, coffee, and keys tomorrow morning) it appears, as cultural barometers of cool might say, so clutch for next fall.