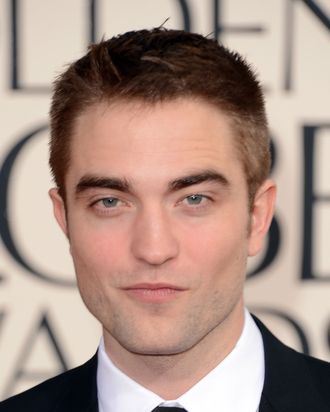 Photo: Jason Merritt/Getty Images
Last October, E! Online reported that Mr. Stewart signed a $12 million deal to become the face of Dior's men's fragrances for three years; however, a few days later, the fashion house said it hadn't yet signed any contracts with Pattinson (without mentioning its future contract-signing plans). Now, the Sun writes, R-Patz shot a menswear campaign for Dior, set to debut in May. Says a source:
The advert is sexually explicit. It is pushing the boundaries of what you can get away with in advertising.

Robert is topless for part of it and kissing one of the models with tongues. He really gets stuck in.

There's another scene where he takes part in a foursome in various states of undress, although it's not clear whether those scenes will make the final cut.

According to the people on set, he didn't take much persuading to get into the role.
Hey, once the wall sconces dim … but can you imagine rosy-cheeked Raf offering his input?