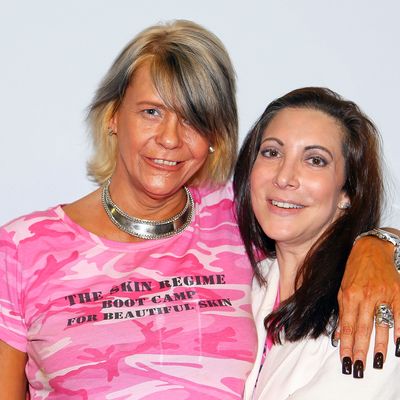 Photo: Charles Norfleet/Getty Images
So-called "tanning mom," Patricia Krentcil — let off the hook last month after a grand jury concluded there wasn't enough evidence to indict her on child endangerment charges for allegedly bringing her 5-year-old daughter into a tanning booth — has other plans in the works, aside from moving to London, where she's booked "a lot of modeling jobs." The Nutley, New Jersey, resident, along with "self-styled skin guru, Dana Ramos," are putting together a line of self-tanning lotion dubbed Real Tan Mom Healthy Glow, NBC News writes.
Ramos, who has her own skin-care line, helped rehabilitate Krentcil's complexion, which was marred by oversize pores, dark spots, and lines from up to 20 sessions in the tanning bed each month.

She said she banned Krentcil from tanning — many salons said they wouldn't serve her anyway — and oversaw a regimen of peels and moisturizers. A plastic surgeon helped with some fillers.
Krentcil earned her own page on Ramos's Skin Regime book website and multiple videos on Ramos's YouTube channel, and the two attended a Skin Cancer Foundation event together in September, but this is the first we've heard of their products, which should be completed in a matter of weeks. Krentcil hopes to put the money she makes from Real Tan Mom Healthy Glow toward the thousands of dollars she owes in legal fees.
Also, she's penning a book:
But [she] doesn't have an agent or publisher. Once the subject of a "Saturday Night Live" sendup, she'd like to leverage her wacky story and offbeat personality for a comedy routine.
What's the deal with — oh, forget it.