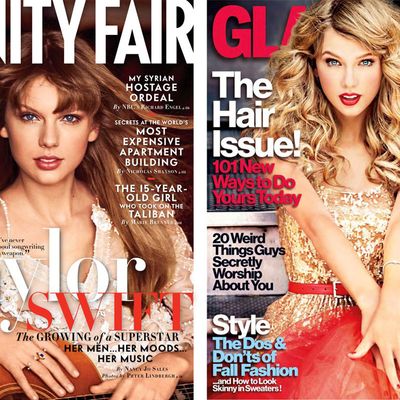 Taylor Swift's latest covers.
You couldn't walk past a newsstand anytime this year without encountering Taylor Swift on the cover of something. When she wasn't splashed on the tabloids, she was on Vogue (February 2012), Glamour (November 2012), Harper's Bazaar (December 2012), Cosmopolitan (also December), and Elle (March 2013). That's quite a bundle, particularly for someone who has a reputation for not selling magazines, as established back in 2011, when she was also the year's worst-performing cover girl. The fact of the matter is, Swift is good at selling records, not magazines. Maybe someday editors will learn.
Here are Swift's newsstand numbers, crunched by the Alliance for Audited Media and released today in WWD.
Her Vogue cover: Sold 329,371 copies, which was a notch above the magazine's ho-hum six-month average but still woefully behind the previous year's March issue, which featured Lady Gaga and sold about 602,000 copies.
Her Harper's Bazaar cover: Sold 138,412 copies, well below the magazine's average.
Her Cosmo cover: Sold a little over 1,000,000 copies, the magazine's weakest performance of the year.
Her Glamour cover: Sold about 443,000 copies, but couldn't beat Lauren Conrad's 500,000 copies (May) or Victoria Beckham's 482,000 copies (September).
So will magazines give up on Swift? Nope. Glamour's Cindi Leive blamed her newsstand flop on … Harry Styles, of course! "There may have been a little hiccup for her right around the 1-D relationship," she told WWD. "But it's nothing a pro can't come back from. I'd put money on her for the long run." Get excited to ignore more Swift pictures in 2013.