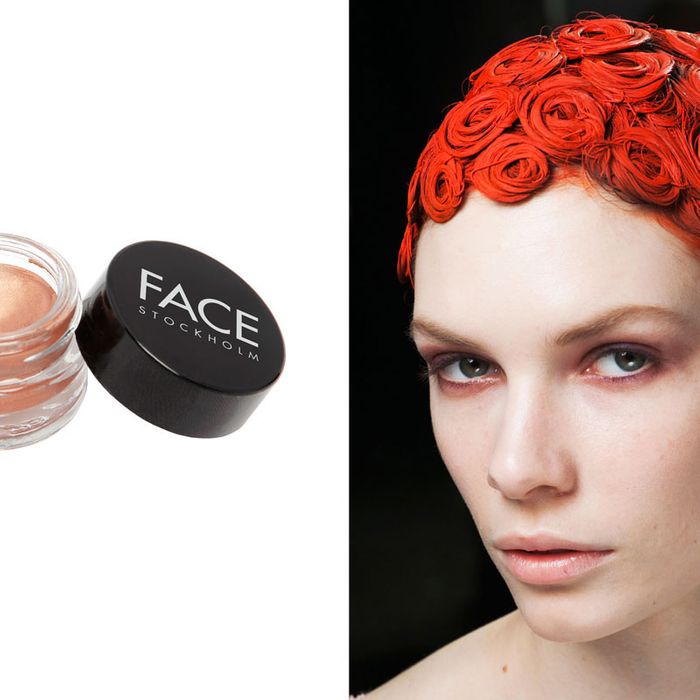 Photo: Courtesy photo, Imaxtree
At the Givenchy show this week, Pat McGrath sent models down the runway with eyelids awash in the softest hue of rose-tinged copper. Its effect was so warm and ethereal that it made the girls' retro hairdos — swim-cap shapes made of brightly dyed, shellacked rosettes — look sweet. Naturally, an immediate search for a product that would deliver that same rose-gold effect was in order.
All the shadows I could find in the beauty closet skewed too gold, too Champagne-y, or not rosy enough. But buried in a pile of products that won't be launching until summer, I discovered a tiny, sample-size pot of Face Stockholm's Cream Eyeshadow in Tyll (that's "tulle" in Swedish). The base color is a peachy-pink, and there's an additional gold pigment that gives lids that iridescent, multidimensional finish. It's long-lasting, creaseless (I didn't even need primer), and  made my lashes look more plush and defined against their metallic backdrop. WIN. The stuff won't be available to the masses until summer, but Face Stockholm has agreed to a presale for Cut readers only, starting today. This way, your rose gold dreams can come true a wee bit sooner than planned. Happy pre-spring, all.
Just click the link to have access to the sale.