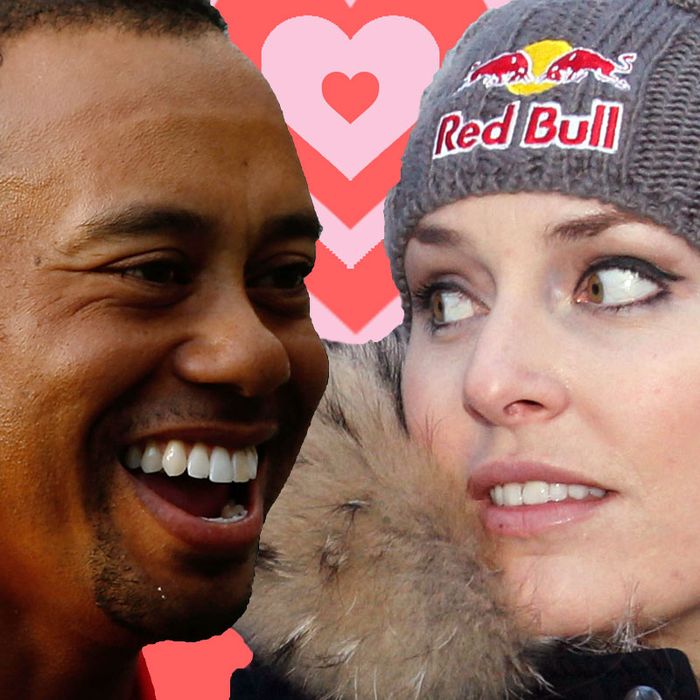 Tiger Woods and Lindsey Vonn made it Facebook official yesterday. The jock power couple posted a posed portrait — flashing the logos of the athletic apparel companies they endorse — along with statements about how their "friendship" had "evolved" into "something more," for which they asked us to respect their privacy. And we totally will, after briefly making the case for why — despite USA Today's cynical nay-saying— Vonn and Woods are a perfect match.
The couple became publicly linked last month, when Woods dispatched his private jet to ferry Vonn home to Vail for knee surgery after she was injured at the World Championships in Austria — a chivalrous gesture rivaled only by the Adam and Hannah plot in the Girls season-two finale. Vonn reportedly recovered on Woods's yacht in Florida. So they're off to a fairytale start.
As has been widely noted, Vonn appears to be Woods's type, physically speaking, but they also have a lot in common. They are both child phenoms-turned-world champions at Waspy sports — though not Wasps themselves — who fell from the top of their game amid marital problems. (To be fair, Vonn's divorce and stumble paled in comparison to Woods's.)
One potential hurdle to their relationship is that, short of war criminals, Woods might be the world's most difficult bachelor to bring home to Dad. But Vonn is already a seasoned pro at dating men her father doesn't approve of (he was not invited to her 2007 wedding to Thomas Vonn) and rebuilding the father-daughter bond post-breakup. Plus, it takes the competitive spirit of a world-class athlete to be the girlfriend of a confessed sex addict.
But the best part of this match might be that we don't have to worry about ex Elin Nordegren and the couple's two children. Woods watched his daughter's baseball game while Vonn waited in the car, and Nordegren has been linked with her billionaire coal baron neighbor whose yacht sounds way nicer than Woods's. Who says abject infidelity scandals can't have happy endings?