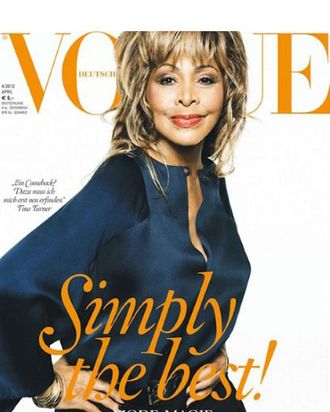 When 62-year-old Meryl Streep covered American Vogue's January issue last year, she was immediately crowned the oldest woman to cover Vogue ever. No one could actually confirm that fact, though — Vogue wouldn't, and many of the magazine's early covers don't feature enough information about the models to determine their ages. But it's definitely true that Streep was the oldest to cover American Vogue since Anna Wintour took over, and since most fashion magazines didn't put celebrities on their covers before that, there's a strong chance that she really was the oldest overall.
Until now! 73-year-old Tina Turner covers the April issue of German Vogue, surpassing Streep by a full decade. Here she is in a simple navy Armani gown, styled by Nicola Knels and photographed by Claudia Knoepfel and Stefan Indlekofer. Sure, there's some weird airbrushing going on — particularly on her chest — but that would probably happen despite her age.
Speaking of, American Vogue's April cover — the one Michelle Obama's supposed to be on — is imminent. Fingers crossed Bo gets some play in the accompanying spread.