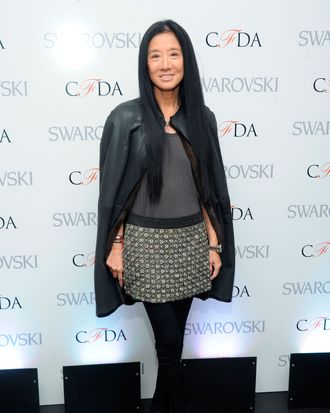 Vera Wang.
Photo: Jamie McCarthy/Getty Images
When a China-based newspaper reported last week that Vera Wang's Shanghai-based bridal boutique was charging the substantial fee of 3,000 yuan, or about $482, for a 90-minute try-on session, the designer faced accusations of classism and snobbery. Yesterday, she announced that her brand would no longer charge such fees anywhere, stating to WWD:
Upon careful investigation and review of the policies of our international operators, we will be abolishing appointment fees in all of our stores… We wish for all Vera Wang customers to enjoy the same standard of excellence worldwide. Treating our customers in a fair and equitable way remains a priority. The store in Shanghai has only been open to private VIP preview appointments. The official opening to the public will take place on April 29.
So why did the fee exist in the first place? There are multiple reasons, apparently. First off, it's not unheard of for designer stores in China to charge a modest sum for try-on sessions, supposedly to dissuade counterfeiters from "looking at" tons of dresses for knockoff purposes, although 3,000 yuan is unusually high. It's also notable that Wang's brand-new store wasn't operating under normal boutique standards yet, so these pricey appointments were all special cases. Meanwhile, a staffer at the store told WWD that the practice was meant to keep out shoppers who were trying on wedding gowns just for kicks:
A lot of high school and college students were coming here and weren't serious about buying a wedding dress so that's why we started the fitting fee … We just wanted to make sure we were serving the right customers, and the [fee] is then redeemable off the purchase price of any gown.
And finally, the fee did include a nice tea spread, so even if a prospective buyer didn't find anything she liked, she could at least walk out with a few extra cookies stuffed in her handbag.