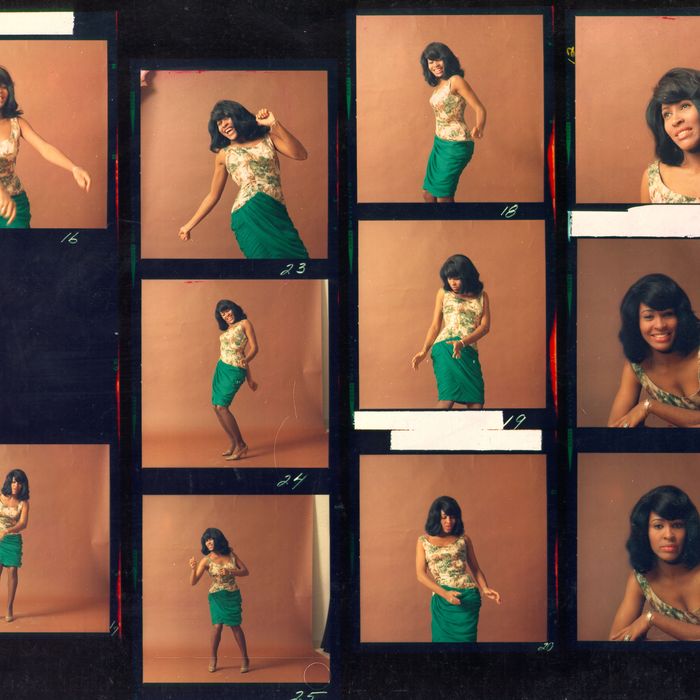 Photo: Michael Ochs Archives/Getty Images
The latest installment in our series of vintage contact sheets, featuring never-before-published images from photography archives.
Earlier this week, the reigning Queen of Rock and Roll broke yet another record: At age 73, she struck a pose for Vogue Germany's latest issue, officially becoming the glossy's oldest cover girl in history. But before Turner became a ubiquitous household name beloved for her sultry Grammy-winning voice and electrifying stage presence (see video below), she was once a young Tennessee native named Anna Mae Bullock (nicknamed "Little Ann") who just dreamed to sing on stage with Ike Turner's Kings of Rhythm. And once the world heard her voice, the rest was history. She paired off with Ike to form a R&B duo called Ike & Tina Turner's Revue, famously left him, and subsequently carved her own path to superstardom solo. In 1964, photographer Michael Ochs captured Tina in a portrait session just as she was getting a taste of global fame as one half of Ike & Tina Turner's Revue. Zoom into the image above to catch a glimpse of Tina dressed in a bright green dress in her twenties — with her hair perfectly coiffed and coral-painted lips curved into a carefree smile, just swaying to the beat and teaching us all how to dance like it's the sixties.