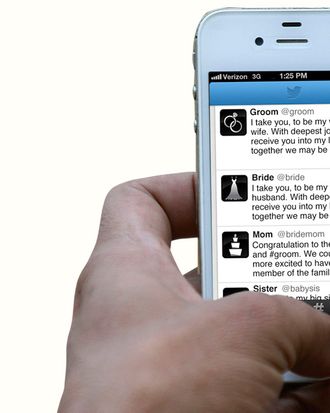 The wedding industry doesn't like change. Not doing a bouquet toss? Shocking. Don't feel like wearing white? How dare you. Macaroon cake? Pssh. So even after smartphones and social networking have transformed our lives, they've only just begun appearing at American nuptials. "The reality is that the wedding celebration now occurs far beyond just where the bride and groom are present," says Cathleya Schroeckenstein, editor-in-chief of WeddingBee.com, who points to Instagram, Pinterest, and Twitter as the latest guests at this season's ceremonies. So, to that cousin who's showing too much cleavage? Consider yourself one-upped (and, while you're at it, hide from those camera phones.) Here's what's trending next.
1. Old: Wedding website. New: Wedding app.
"Three years ago, it was a faux pas to send any piece of the wedding invite electronically," Schroeckenstein says. Then came the glut of JessandRuss.coms and KellyLovesBrandon.coms. Now, couples can make wedding apps using Appy Couple or Wedding Party (both are in beta). Guests download these to get the history of the couple, details and maps for the event, plus a place to post their own photos and comments —basically, everything but the invitation. "There's very few people who will be okay with non-paper wedding invites," Schrockenstin says.
More fun for: The bride and groom.
–
2. Old: Welcome letter for guests. New: Pinterest board of restaurants and things to do.
Christine Landry, who oversees wedding listings at directory website Dex Knows, is using Pinterest to replace the welcome letter guests sometimes find in their hotel rooms. She created boards of what to see, do, and eat in Nashville before she even mailed save-the-date cards for her destination wedding. "If they're on Pinterest they can repin to their Nashville travel board," she says.
More fun for: Guests. Maybe.
–
3. Old: Vows on paper. New: Vows on a smartphone or tablet.
Universal Life Ministers now bring their iPads with them, and Schroeckenstein has seen more than a few tablet-wielding officiants. "It just seems practical," she says. To keep the ceremony from looking like Apple's yearly shareholder meeting, Abby Larson, founder of wedding blog Style Me Pretty, suggests disguising the tablets in some sort of portfolio holder, like Tod's leather fold-over case. Brides and grooms have also begun reading vows off their smartphones, Shroeckenstein adds.
More fun for: No one.
–
4. Old: Wedding photographer. New: Instagram hashtag.
When David Walters and his now-wife Maura realized they had a bunch of Instagram-savvy guests coming to their Charleston, South Carolina, wedding, they decided they needed a hashtag. They chose #davidandmaura (after vetoing their friends' suggestion of "#Malters") and printed it on the note that came with the hotel-room gift bags. "It wasn't like, 'Dammit, take pictures on your phones,'" Walters says. It was more like, 'Thank you for coming, and oh, if you're using Instagram, use this hashtag.'" They only got about 50 photos — compared to the 800 their hired wedding photographer took — but their Instagrammers seemed to be having a better time. "It was basically a way for people to show that they're having more fun than you at your own wedding," he says.
More fun for: Guests.
–
5. Old: Wedding announcement in the New York Times. New: Wedding trending on Twitter.
Guests are now expected to burn up the dance floor and their cell phones. Getting the couple's hashtag, say #coryandkimwedding2012, to trend on Twitter in their local market is "a great non-tangible gift to give to the bride and groom," Schroekenstein says. Twitter's not as universally accepted at weddings as Instagram, though. "I think it's a bit of a distraction," Larson argues. "Instagram is photos. With Twitter, it's a conversation. I'd rather see people put their phones down and pick up a glass of Champagne."
More fun for: The bride and groom.
–
6. Old: Proposing via video. New: Proposing via a streaming music service.
JumboTron proposals turned into YouTube extravaganzas — and now a guy's gone and popped the question via Pandora. Kyle Taylor, in Denton, Texas, spent five months developing a personalized Pandora advertisement that he and his soon-to-be fiancée heard as they drove to dinner. "You're probably wondering why Kyle is sitting here with you listening to Pandora and acting kind of nervous," the Pandora lady says. Then she explains, in Kyle's words: "I want nothing more than to have you by my side for as long as I live." Your move, Spotify fans.
More fun for: The groom. Or, at least, this groom.