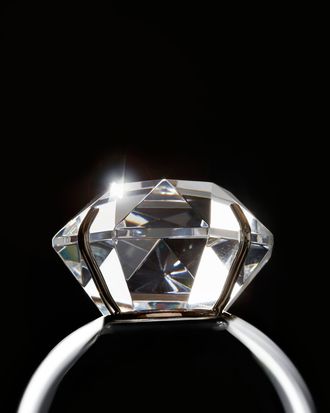 Is your boyfriend about to propose? Want to give him performance anxiety? Send him Vogue's "A Decent Proposal: Engagement Inspiration," featuring a shoppable guide to the picture-perfect engagements of five of Vogue's "recently married editors." Select lines:
My husband, Step, has a horse farm in Maryland

Pampaloni silver candlesticks, price upon request Pampaloni, Florence, +39 055 289094

I, completely clueless that he was about to propose, was walking really fast in [an] attempt to burn off some of my dinner.
Basically, it's the luxury media equivalent of uploading engagement ring pics to Facebook, which actually makes it somewhat riveting. (And perhaps a dangerously open invitation to go "single white female" on Vogue editors?) My biggest question here, though, is if you are a heterosexual female and find one of these engagements "inspiring," what are you supposed to do? Plan your own engagement? Forward the link to your boyfriend? Print out copies and scatter them across the bed to make love on top of, as though Vogue proposals are rose petals and you are a romance-novel heroine? Or better yet — you could reenact one of the proposals and then at the part where the man reveals the ring, you reveal the list.