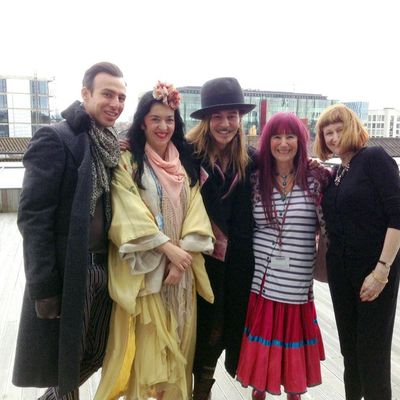 The ousted Dior designer — previously rumored to have professorial dreams — was spotted at Central Saint Martins in London today, Twitter reported. @HarrietFowler wrote, "John Galliano casually wandering around CSM"; @JoshGoodrich_3 posted, "John Galliano went to a crit at central saint martins today.. Bitches be losing they shit son #CSM"; and @russellrb "Walked passed John Galliano on shoreditch high street whilst eating the potato snacks. I think." A spokesperson for the school told British Vogue:
For several years second year students from Womenswear at BA Fashion CSM have been set a project on a theme set by John Galliano … This year the theme was the paintings of Edward Hopper. John Galliano came in to comment on the designs of 12 selected students who had earlier presented the strongest work. John Galliano does not have a teaching post at Central Saint Martins.
Leaving more time for the casual wandering.