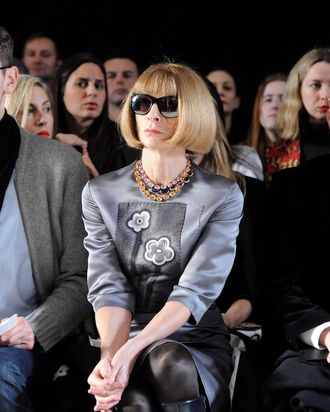 Photo: Dave M. Benett/WireImage
Last Tuesday, Condé Nast named Anna Wintour its artistic director, a new role created specifically for her, though it includes many aspects of Condé chairman Si Newhouse's former duties. Wintour, who remains the editor-in-chief of Vogue and the editorial director of Teen Vogue, described the position to the Times as "almost like being a one-person consulting firm … I advise all sorts of people in the outside world, and really, I see this as an extension of what I am doing, but on a broader scale." At the end of the week, WWD printed a reaction piece citing anonymous staffers concerns, such as, "We have a lot of autonomy as editors … No one wants to see that go away. People need a little more clarity." And the much re-quoted, "We're not all friends here," in reference to how Wintour plans to distribute her energy among Vogue and the rest of Condé's publications. The trade said she'd scheduled an all-hands meeting on Friday to hopefully address her updated position.
However, as WWD writes today, "Top Condé Nast editors who were looking for a clear answer on what exactly Anna Wintour's expanded job entails did not get it Friday morning after their first audience with the new supreme pontiff." Supreme pontiff.
Her brief remarks, which followed [chief executive officer Charles H.] Townsend's, were boilerplate. She told editors she'd help them with their jobs, even if they had not particularly raised their hands for the assist. Of course, Townsend had made it clear earlier in the week that the editors still reported to him, not to Wintour.
A handful of executives gave presentations, but, as WWD reports, "editors left the conclave no better informed than they were days earlier" (emphasis ours). An insider remarked, "[Wintour]'ll do what she always does, which is what she wants to do." Like wear red Prada loafers? Let us pray.