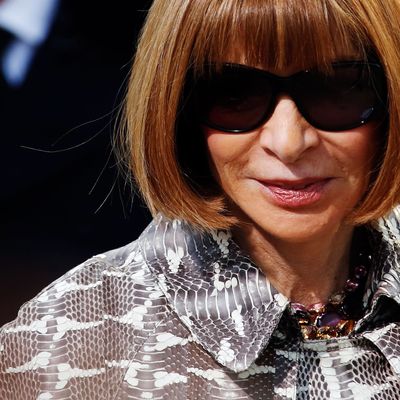 Anna Wintour.
Photo: LUKE MACGREGOR/Corbis
On Tuesday night, the Times reported that Anna Wintour had been promoted to artistic director of Condé Nast, a new role created specially for her. Her new title won't infringe on her current positions at Vogue and Teen Vogue, but it means she'll take on more leadership within the company. But what exactly does that mean, both for Wintour as well as the other editors who now work beneath her?
No one's quite sure yet, it turns out. As the Times reported, Wintour assumes some of the responsibilities formerly held by Si Newhouse, who, at age 85, is paring down his day-to-day involvement with the company. According to Condé CEO Charles Townsend, Wintour will act as a sort of catch-all sounding board; Wintour herself described the job as "almost like being a one-person consulting firm."
Some of the company's other top editors are understandably concerned about this. Although they'll continue to report directly to Townsend, not Wintour, they're not sure how much influence she'll exercise over them. One unnamed source tells WWD that some staffers are worried she'll infringe on other magazines' independence:
We have a lot of autonomy as editors … No one wants to see that go away. People need a little more clarity.
Another insider wonders how she'll balance her loyalties to Vogue with the interests of other publications:
We're not all friends here … This is a competitive building. We use the same photographers. We compete for the same celebrities. This will be a gradual process as she finds areas she'd like to investigate. Why else would she take the job if she wasn't going to do things with it?
WWD reports that Wintour has scheduled an all-hands meeting with her Vogue staff on Friday, where a few of these questions will surely be answered. And how about those ambassadorship rumors, which some say helped Wintour gain leverage for this promotion? Townsend says they only spoke of the matter once, when he offered her the artistic director job in January:
I said, 'I really feel this is the right role. We've been looking for the right handle. The company genuinely believes it … [But] If you accept it, you can't then come and tell me you've accepted at a later date a job as an ambassador.'
He added, "I do want her to spend her glory years at Condé Nast." And so they begin.