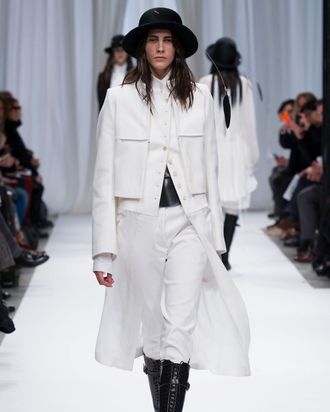 There is a woman — let us call her Albertina for reasons that will become clear shortly — getting dressed for a night of fun, sometime in the near future … maybe November 2013. She puts on a lacy, ruffled, midnight blue confection, meant to be worn with stilettos, but it's been a long day and her patent loafers are looking awfully good. So she sticks those on her feet instead, and then, because she's cheerful (it's almost Christmas!) she adds a whole bunch of ironic necklaces — blown-up rapper-style nameplates that say things like "cool" and "help" — and, even, a tiara. You may think she looks silly, but, in fact, it's just the opposite. She has, as F. Scott Fitzgerald described one of his heroines almost 100 years ago, "that look that no woman, however histrionically proficient, can successfully counterfeit — she looked as if she were having a good time." This person, this season, is the creation of Alber Elbaz at Lanvin who offers, in what has been an interminable-seeming, often extremely dull series of fashion weeks, an excellent antidote to the prevailing depression, a shot of sartorial methamphetamine to counteract the sluggishness.
So bouncy is our mood after seeing the Lanvin show that we decide to stop caviling and report on all the other good things we've seen thus far this week! In this Pollyanna, "Mary Sunshine" spirit, we offer into evidence Exhibit A: Raf Simons at Dior, who sends out stunning cocktails with lacquered houndstooth bodices, leather frocks with exquisitely ruffled hindquarters, and coats that hover deliciously between lavish and austere. (That said, I could live very happily without the incredibly annoying soundtrack that turns out to be Laurie Anderson musing about her overweight dog, and the Warhol sketches of shoes that decorated handbags and some of the otherwise lovely dresses — can I be the only person alive who never wants to hear another word about Andy ever again?)
Does a celebrity spotting count as cheery news? The iconic Cher, good-humoredly placating an adoring public, shows up at Balmain, where the runway heaves with intense, strong-shouldered metallics and other literally gleaming suggestions. If you would rather cover yourself in feathers than swashbuckle in golden draperies, you might consider the multiplicity of plumes at Dries Van Noten, where the runway ensembles appear almost uniformly hip and groovy (though, how much of this is due to genius styling and how difficult it will be to reproduce in front of your home mirror remains to be seen). In any case, if you are feather-brained at the moment, why not experiment with this notion as Dries did, combining an ankle-length beige chickadee with the plainest of white Oxford shirts?
Of course, merry doesn't have to mean inane, or slaphappy — no one could accuse Patti Smith (the thinking man's Cher?) of either of those two indulgences, but her warm sagacity is the angel hovering over the proceedings at Ann Demeulemeester, animating every pristine leather bustier, every sheer black smock, every somber derby. If a new pope is ever to be a woman (okay, so not this time around … ), she could wear Demeulemeester's buttoned-up frock coat for her invocation and remain both reverent and stylish.
See the complete Lanvin collection here.
See the complete Christian Dior collection here.
See the complete Balmain collection here.
See the complete Dries Van Noten collection here.
See the complete Ann Demeulemeester collection here.