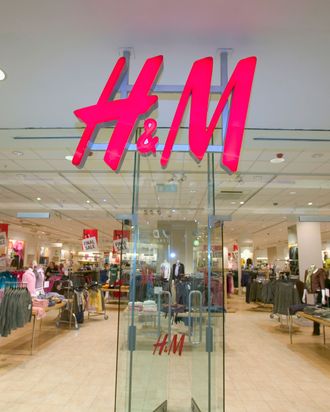 Photo: Ashley Cooper/Corbis
After opening 40 stores in the U.S. last year, the fast-fashion chain plans to open at least 40 more stores on American soil this year, WWD writes. On Thursday, Daniel Kulle, the president of our country's H&Ms, announced the locations of ten forthcoming shops, "including the Roosevelt Collection in Chicago; Union Station and The Shops at Georgetown Park in Washington; the French Quarter in New Orleans; City Place in West Palm Beach, Fla., and the Waikiki Business Plaza in Honolulu, one of the brand's biggest new markets to date," the trade reports. And, of course, the World's Largest H&M, at 589 Fifth Avenue and 48th Street in Manhattan, and another outpost several blocks away, in 4 Times Square, remain on the docket. Kulle described the former as "more like a high-street store" and the latter embodying a "full-on party atmosphere." Condé should be pleased.
Kulle also confirmed earlier reports that H&M would launch a U.S. e-commerce site this summer, and the company is going to send out catalogues to promote its fall offerings. He mentioned bringing the chain's sister brands Stateside — "Cos for sure will be in America." He went on, "We're happy we have a strong concept catering to the whole family … You can shop for your kids when you're younger and shop for yourself when you get older. We have 269 stores in U.S., but with more than 314 million people in the country, we haven't exposed everyone to H&M yet." Did you hear that? Each and every one of you is getting an H&M!