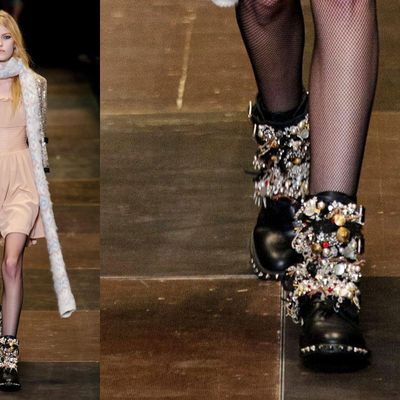 With only two days left before Fashion Month comes to a close, there are still plenty of big shows with eye-catching details worthy of a second look. Over the weekend, Comme des Garçons transformed the work of artist Dan Michiels into a series of exaggerated and deconstructed suits. Designer Rei Kawakubo pleated, tucked, and layered Michiels's vividly colored fractals into elaborate rosettelike adornments that were a feast for the eyes. The next day at Céline, Phoebe Philo sent out a parade of covetable coats, bags, and boots, all sure to be big sellers. While Philo's jewelry has taken a backseat to her other accessories, one standout collar strikes the perfect balance between minimal and statement — it appears to be two necklaces layered but is actually one continuous piece on closer (zoomed-in) inspection.
Last night at Givenchy, Ricardo Tisci crafted rosettes, too, this time of the models' hair, that echoed the pattern throughout the collection. While Natalia Vodianova closed the collection in one such floral creation, a diffrent look on Mariacarla Boscono highlighted the intricacies of the finale skirts: They're diaphanous yet capable of holding up the weight of hundreds of sequins and a zippered hem.
Today at Giambattista Valli, the designer crafted luxurious red-carpet-ready looks, trimming them in fur and gems and occasionally pairing them with matching sensible loafers. One sleek black-and-white look was accented with a massive collar made up of iridescent beads. Even Hedi Slimane embraced embellishment for his grunge-meets-glamour collection tonight at Saint Laurent. Plaid dresses, tights, and the combat boots all gleamed with rhinestones and other adornment, as if the grunge girl strung together every last thrift-store jewelry find onto her accessories. Click on to zoom in on a particularly elaborate pair of boots, plus all of the other details from the last three days.
See the complete Saint Laurent fall 2013 collection here.
See the complete Giambattista Valli fall 2013 collection here.
See the complete Givenchy fall 2013 collection here.
See the complete Céline fall 2013 collection here.
See the complete Comme des Garçons fall 2013 collection here.