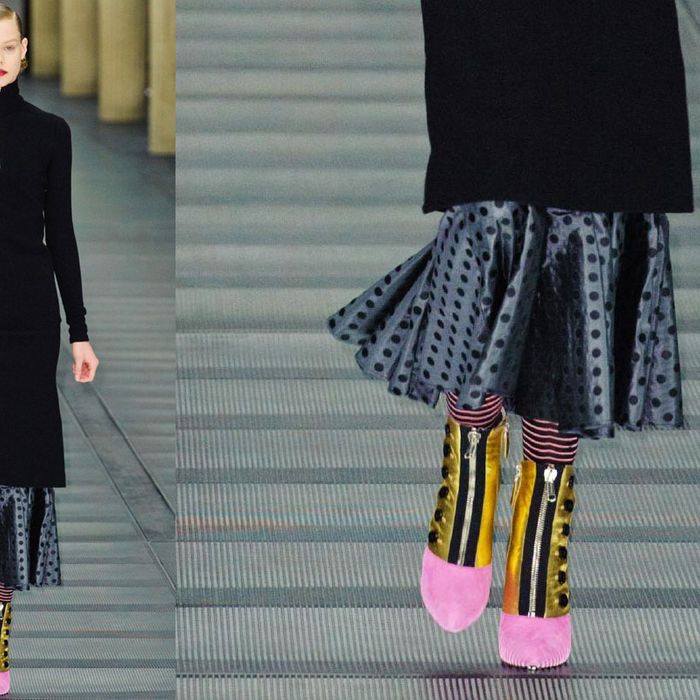 Just like that, the last of the shows have walked and Paris Fashion Week has come to an end. To properly bid adieu to all of the fantastic looks that have walked the runways in the last week, it's time to examine them up close and personal. This morning at Louis Vuitton, Marc Jacobs showed his take on boudoir glamour, sending the ladies clad in fur, satin, and lace down a runway dressed as a hotel hallway complete with doors. One racy look married tweed with bits of lace at the bust line and hem, making it a body-hugging dress or a substantial slip, depending on the occasion. Later in the day, Miu Miu proved that outerwear is really all that matters next fall. In navy, polka dot, or full-on fur, the coats were paired with calf-length skirts, striped stockings, and the occasional doctor's bag. To create a much cooler version of Mary Poppins, one outfit layered polka dots, stripes, and gold-and-pink ankle boots.
Elie Saab closed out the day with his signature Hollywood-friendly designs. Smart pantsuits, sexy cocktail dresses, and elaborate gowns will make it easy for any celebrity stylist to dress her client for upcoming press junkets. Zoom in close to one red-carpet friendly creation to see all of the layers of embellishment that will have any actress sparkling under the flashbulbs — after a lining gets sewn in. Click ahead to say au revoir to a season's worth of detail shots, plus catch the rest of 'em back to the beginning of fashion month.
See the complete Louis Vuitton fall 2013 collection here.
See the complete Miu Miu fall 2013 collection here.
See the complete Elie Saab fall 2013 collection here.