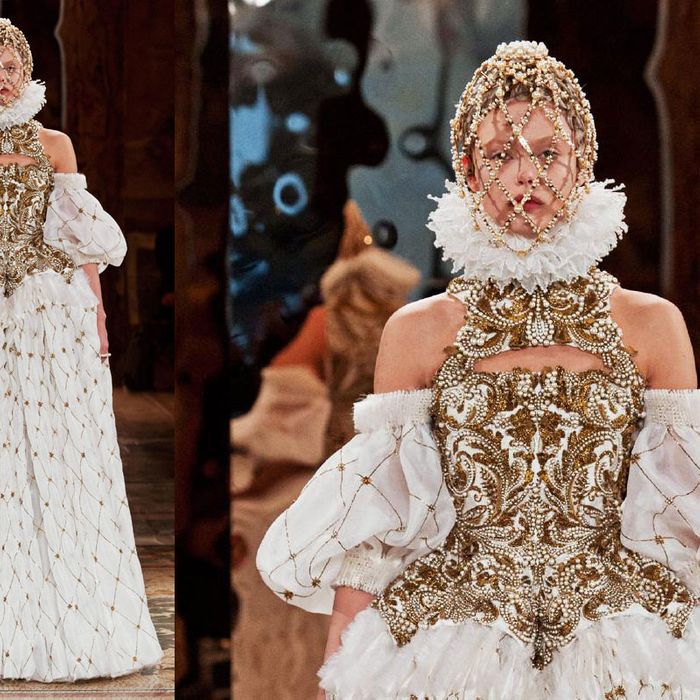 Alexander McQueen presented a small but impressive reduction of English costume history, weaving decadently between Elizabethan, Jacobean, Victorian, and postwar fashions. Farthingales were draped with gold-lattice-embroidered silk chiffon, and a heavily embroidered pearl and gold beaded corset/gorget was topped off with a frothy broderie anglaise ruff, edged with white pearls.
Vivid red ostrich feathers were a bold detail that offset the origami-like folds and pleating that characterized the basque like satin corsets at Hakaan.
At Chanel, expected tweeds and woven leather chains were found throughout, but one look especially piqued our interest: a colorful silk-embroidered thread haphazardly woven along the neckline and shoulders of a dress we loved.
And at Valentino, ermine fur (the stuff worn only by heads of state more than a century ago) comprised a fur skirt that was complemented by mink intarsia, woven in a baroque pattern that seemed innocent and regal all at once.

See the complete Alexander McQueen fall 2013 collection here.
See the complete Hakaan fall 2013 collection here.
See the complete Chanel fall 2013 collection here.
See the complete Valentino fall 2013 collection here.