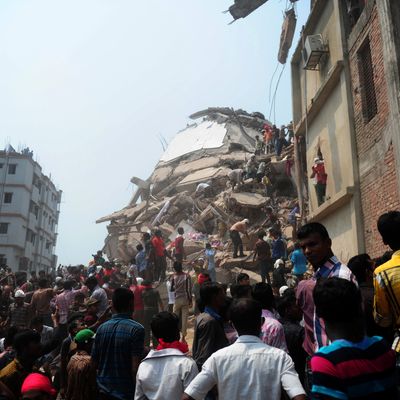 More than 300 garment workers have died after an eight-story building collapsed in Savar, Bangladesh, on Wednesday, and rescuers are continuing find employees alive in the wreckage — "72 since daybreak following 41 found in the same room overnight," Reuters reports. According to an industry official, 3,122 people were in the building, called Rana Plaza, at the time of the incident and approximately 2,350 have been saved. Deputy fire services director Mizanur Rahman said his team plans to keep up the search among the rubble that was once a series of four factories.
According to Women's Wear Daily, Rana Plaza housed New Wave Style, Ether Tex, Canton Tech Apparel, and New Wave Bottoms, and the Bangladesh Center for Worker Solidarity told the trade "the factories were making items for clothing retailers Mango of Spain and Benetton of Italy." The Times adds that activists found "labels and documents linking the factories" to Children's Place and Cato Fashions, none of which have commented. However, both Joe Fresh and Primark admitted to using the facility:
Loblaws, a Canadian retailer that markets the apparel brand Joe Fresh, said one factory produced a "small number" of Joe Fresh garments. "We are extremely saddened" by the building collapse, Loblaws said in a statement, adding, "We will be working with our vendor to understand how we may be able to assist them during this time."
"The company is shocked and deeply saddened by this appalling incident at Savar, near Dhaka, and expresses its condolences to all of those involved," a Primark spokesman said in a statement. […] "Primark has been engaged for several years with NGOs and other retailers to review the Bangladeshi industry's approach to factory standards. Primark will push for this review to also include building integrity."
Reuters explains Rana Plaza's owner Sohel Rana received a permit to construct a five-story building from the local municipality, which can't authorize such projects, and then tacked on another three floors. Workers knew that the building was structurally unsound, even noticing cracks on the walls a day before the collapse. Police charged Rana and the owners of each of the four factories with negligence and Rana is scheduled to be in court next Tuesday.