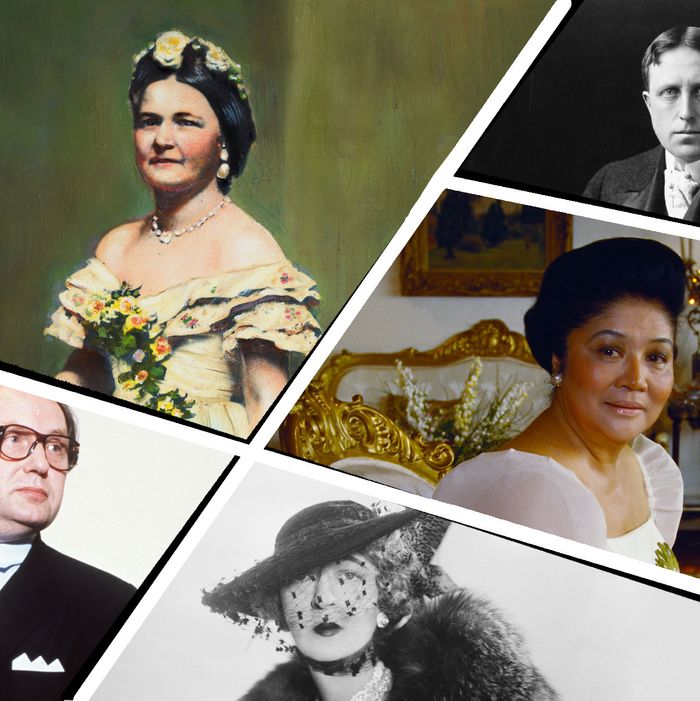 Today is Tax Day, which means you are thinking about money — planning uses for rebate money, lamenting a lack of money, or just staring blankly at the sum total of your 2012 earnings while pondering death. At this time of fiscal anxiety, let us turn to the escapism of extremes: shopping stories from history's most astonishing spenders. From Imelda Marcos blowing $3 million in a single day, to a German spy embezzling millions for Nazi memorabilia purchases, their spending habits make modern shopaholics like Buzz Bissinger sound tame.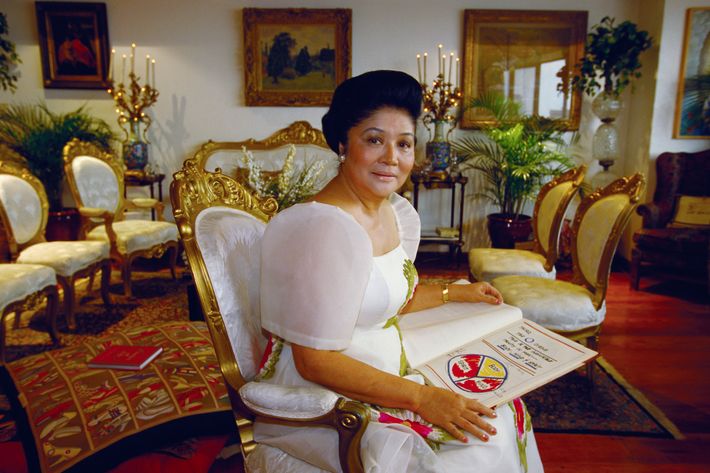 IMELDA MARCOS: First Lady of Extravagance
The Philippines' dictator's wife left her collection of 3,000 shoes behind when she fled the country in 1986. In two decades, the Marcoses are believed to have embezzled up to $10 billion. Imelda's most famous shopping spree occurred during a 1983 trip to New York, Rome, and Copenhagen. She spent $7 million in 90 days. In a single day in New York, she spent $3 million. Her New York loot included $2 million in fine jewelry and $35,000 on limousines. In Rome she purchased a $3.5 million Michelangelo painting. Her travel expenses were also extravagant; she once spent $2,000 in chewing gum during a stop at SFO. An airplane departing Rome was required to do a mid-air U-turn because Imelda realized she'd forgotten to purchase cheese.
Sometimes she shopped by catalog: In 1981, Sotheby's abruptly canceled a $5 million art auction because Imelda had offered to purchase every item in the catalog before the sale even began. When she tired of buying objects, she would purchase whole buildings in her favorite shopping capitals: During her travels, she purchased several Manhattan skyscrapers, including the Woolworth building. (Rumor has it Imelda declined the Empire State Building for being "too ostentatious.") For one daughter's wedding, Imelda spent $10.3 million to renovate an entire town in the Philippines. She built a luxury hotel and airport in husband Ferdinand Marcos's humble birthplace of Sarrat. Local homes were "refaced to look like 17th-century Spanish dwellings."
After five years in exile, Imelda returned to the Philippines in 1991. Her assets are still being contested; the AFP reported last year that Imelda's declared net worth was $22 million. (Sidenote: Zoom in on Imelda's manicure in that picture. French tips and half-moons.)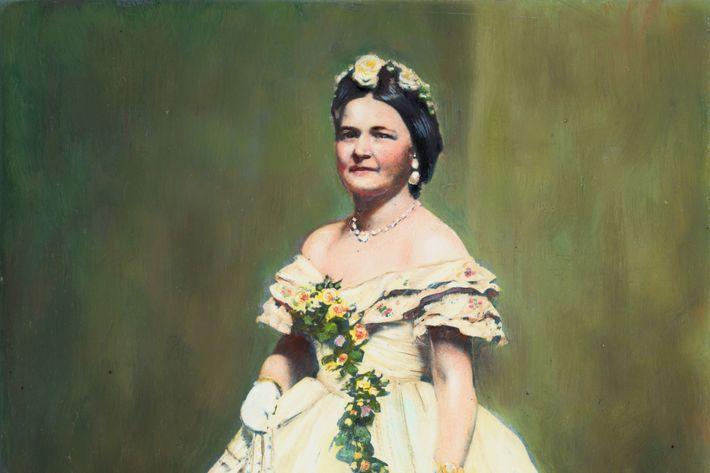 MARY TODD LINCOLN: First Lady of Debt
President Abraham Lincoln's lightning-rod wife faced criticized for her extravagance. Arriving at the White House, she overspent her four-year budget for home repairs and décor in less than one year — half of it on fine china and French wallpaper. When the commissioner of public buildings informed her, "there is no money for this papering. The $6000 in annual repairs for the president's house is nearly exhausted by unusual painter's and other bills," Lincoln launched a desperate debt defensive. She sold off White House furniture and ordered groundskeepers sell manure from the presidential stables. (One biographer notes, "this inflated price led to more jokes than sales.") Meanwhile she continued to shop, amassing a wardrobe that included a $2,000 dress and 300 pairs of kid gloves. "The more Mary Lincoln owed, the more she had to buy in order (or so she believed) to prevent her informal loans from being called," biographer Jean H. Baker writes. She padded expense accounts and took bribes from lobbyists. "I have contracted large debts, of which he knows nothing, and which he will be unable to pay if defeated," she reportedly told a friend before the president's 1864 reelection. She and honest Abe had "opposite natures," Mary noted. After her husband's death, Mary begged the government for a widow's pension like those provided for the wives of fallen soldiers; Congress dragged its feet for five years before granting the unprecedented request.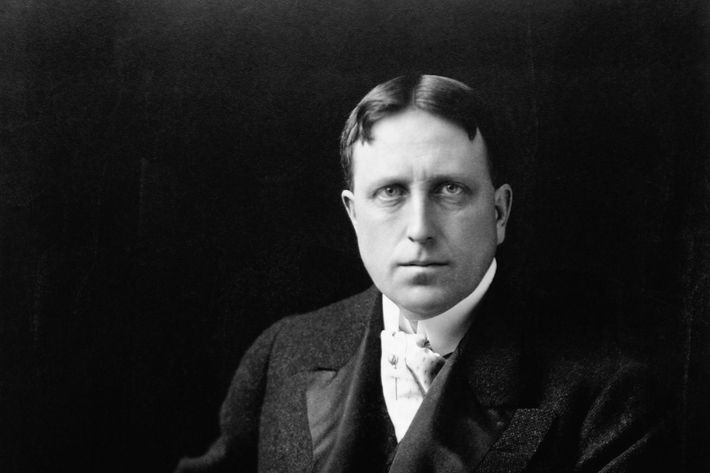 WILLIAM RANDOLPH HEARST: Art Hoarder
After the death of his mother in the 1919 flu epidemic, William Randolph Hearst inherited $11 million and launched two parallel buying sprees. Professionally, he acquired 28 major newspapers and eighteen magazines, building the largest media network in the world and amplifying his wealth by a magnitude of ten. Personally, he embarked on his lifelong quest to build and furnish the castle of his dreams on a family ranch in California immediately after his mother's death. From 1919 to 1947, Hearst poured millions into its Gothic limestone architecture and antique furnishings. The estate was 127 acres and featured 56 bedrooms, 61 bathrooms, and nineteen sitting rooms. He filled it with paintings from the great masters, 155 ancient Greek vases, Egyptian sculptures, marble and bronze statues, a movie theater, and a private zoo. Hearst would go on to purchase other homes — including another castle in Wales — but Hearst Castle was the main reliquary of all that Hearst's money could buy. Or, as Hearst said in 1927, "I see no reason why the ranch should not be a museum of the best things that I can secure." His extravagant life and castle inspired Orson Welles's Citizen Kane.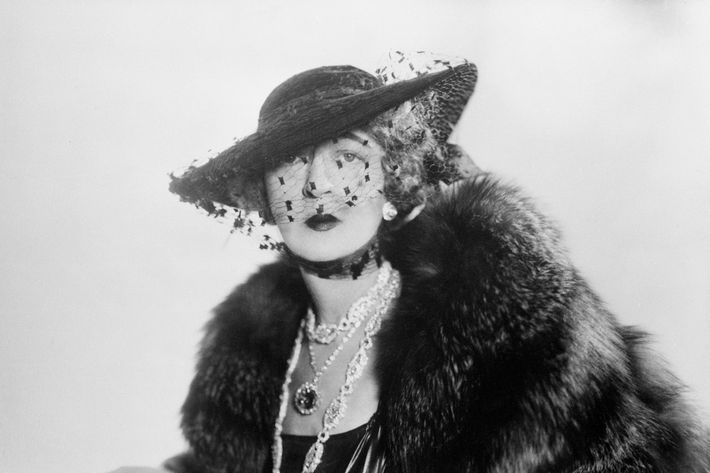 EVALYN WALSH MCLEAN: Cursed by Diamonds
In early twentieth-century Amreica, mining heiress wife Evalyn Walsh McLean was not known for her discretion. Her memoir was entitled Father Struck It Rich. She lived with husband Edward McLean, who owned the Washington Post, in a 60-room D.C. mansion that is now the Indonesian Embassy. The couple eloped in 1908, then went on a European honeymoon where Evalyn spent more than $200,000, a small fortune that included the purchase of the 94-carat Star of the East diamond. The trip launched a lifetime obsession with shopping and jewels; on one occasion, Evalyn conducted a shopping spree from the back of her chauffeured Rolls Royce, with shopkeepers carrying the wares to her. In Father Struck It Rich, she described buying a St. Bernard puppy that way: "There seemed to be not a single poodle for sale," she lamented.
Her most famous purchase was arguably her undoing: The last living owner of the Hope diamond, Evalyn was said to have suffered from the Hope diamond curse. Her glamorous marriage to Ned McLean ended in a messy divorce after Edward ran off with the sister of a famous actress. He would later be disgraced in the Teapot Dome scandal and spend his final years in a mental institution. During the divorce, Evalyn famously lost $100,000 to a con man who told her she could help save the Lindbergh baby, prompting contemporary newspapers to ask, "Has the woman who defies superstition to wear this sinister gem been mocked again by the spell that has taken a toll of death and heartaches from every owner through three centuries?" She would live her twilight years as a morphine addict.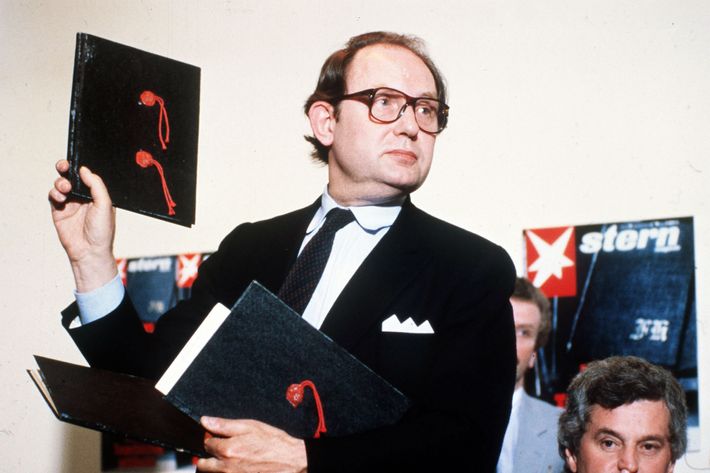 GERD HEIDEMANN: Nazi Fraudster
German journalist Gerd Heidemann was a Nazi memorabilia shopaholic. In the seventies, he mortgaged his home to purchase Luftwaffe commander Hermann Georing's yacht, intending to repair and resell it. But the repairs drew him into a spiral of debt, that he did not escape until 1983 — when Heidemann "found" a 62-volume set of Adolf Hitler's personal diaries. The diaries were a forgery, but Heidemann convinced West Germany's Stern magazine to pony up a rumored $5 million to purchase them. Hitler experts retained by Newsweek and the Sunday Times authenticated the documents; the Times purchased English serialization rights. (During last year's Leveson inquiry, Times owner Rupert Murdoch acknowledged that the Hitler diaries fiasco "was a major mistake I made, and I will live with for the rest of my life.") In the course of mere days, the diaries were proved to be forgeries, riddled with factual errors and made with modern paper, ink, and glue. But before he could be prosecuted for fraud, Heidemann blew close to $1 million on "two villas in Spain, two luxury sports cars, expensive jewelry, rare WWII memorabilia for his collection, and extravagnt vacations," TruTV explains. Heidemann claimed forger Konrad Kujau kept all profits from the diaries' sales, but Kujau says they split it. Approximately $1.8 million from Stern's initial investment has never been accounted for.
In 2002, decades after his debt to society had been repaid in the form of a four-year prison sentence, Der Spiegel discovered that Heidemann had been a spy for East Germany's secret police. Confronted with his Stasi file, an elderly Heidemann claimed he was actually a double agent. He maintains his innocence on all matters — the fraud, the spending, the espionage — to this day.