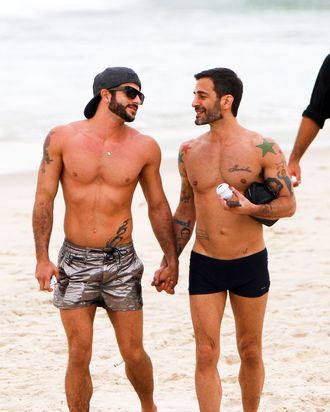 Photo: ARIO/AKM Images/GSI Media
The designer and his boyfriend continued their annual Rio de Janeiro birthday beach trip on Wednesday, but traded in their Speedos for swimsuits that provided a bit more coverage. Harry chose space-age mini-boardshorts with a backwards cap, sunglasses, and his K.Stew-like love token, while Marc picked a square-leg style. From this angle, we can also study the tattoo adorning Marc's left bicep — apparently it's Liz Taylor as Martha in Who's Afraid of Virginia Woolf? wearing 3D glasses.
Stateside, the AARP wished Marc a happy birthday on its blog and reminded him that he's now old enough to become a member of the organization.