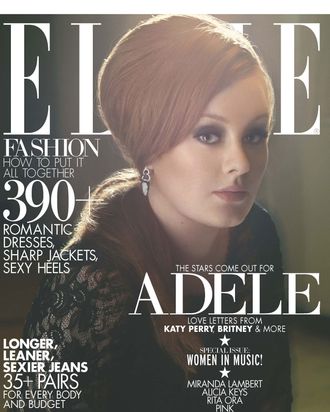 Adele.
Photo: Courtesy of Elle
Adele is one of the few very famous female musicians who hasn't tried her hand at a fashion or beauty collaboration of some sort. And as you can see from examples like Rihanna, Lady Gaga, Beyoncé, and Taylor Swift, who have partnered with major brands like Dolce & Gabbana, M.A.C., L'Oréal, and CoverGirl (to name just a few), such arrangements are often good for brand-building. They're also very, very lucrative, and can even lead to a whole post-singing career — just look at Jessica Simpson.
But Adele proves that a singer can still be financially successful without lending her face to anything besides her music: This week, London's Sunday Times put her at the top of their "rich list" subsection for musicians under 30, approximating her worth at £30 million (about $46 million). Not shabby, particularly as she's only 24 and has many years of singing ahead of her. And considering how great she looks on her new Elle cover, she could easily bag a fashion/beauty contract in the near future and get even richer — but it's nice to remember that such things aren't a rite of passage to fame and fortune.