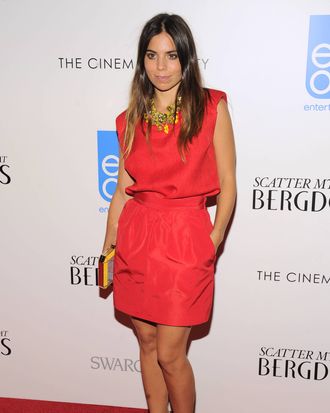 Ally Hilfiger.
Photo: Nicholas Hunt/patrickmcmullan.com
At last night's screening of the new documentary Scatter My Ashes at Bergdorf Goodman, viewers watched Ally Hilfiger present her now-shuttered Nahm collection over the course of two appointments with Bergdorf's fashion director, Linda Fargo. Hilfiger's shirt-dresses looked cute, but Fargo ultimately passed, providing some tender encouragement in the process. Indeed, prior to Nahm's abrupt closure last fall, it seemed like the brand had a bright future.
Hilfiger herself attended the screening and its after-party at Harlow. "I love documentaries about fashion, and it was just so cool to even be a part of it. And I had no idea," she said. "We had an appointment in Bergdorf Goodman, and it was in this oversize dressing room. Then they said, 'Oh by the way, will you be on camera?' And we had to say yes, because we needed the appointment. Then a few weeks later they called and asked to come to our studio. But that was about two years ago. I'm moving onto the next. Nary [Manivong, her former co-designer] is doing his thing and I'm doing my thing."
So, what does her "thing" entail these days? "I'm painting a lot, and continue to be inspired every day. And I'm writing a book about having Lyme Disease for so many years. I've had it for twenty years, and it was undiagnosed for eleven. So I'm writing my story in a really fun, funny way — like, a lighthearted way to spread awareness. And doing a lot with a charity, Lyme Research Alliance, and moving to L.A.! And staying healthy, that's a full-time job. But you know, fashion is in my blood, so there's no way I can't do it — somehow, someday, some way." And there's no cure for that.