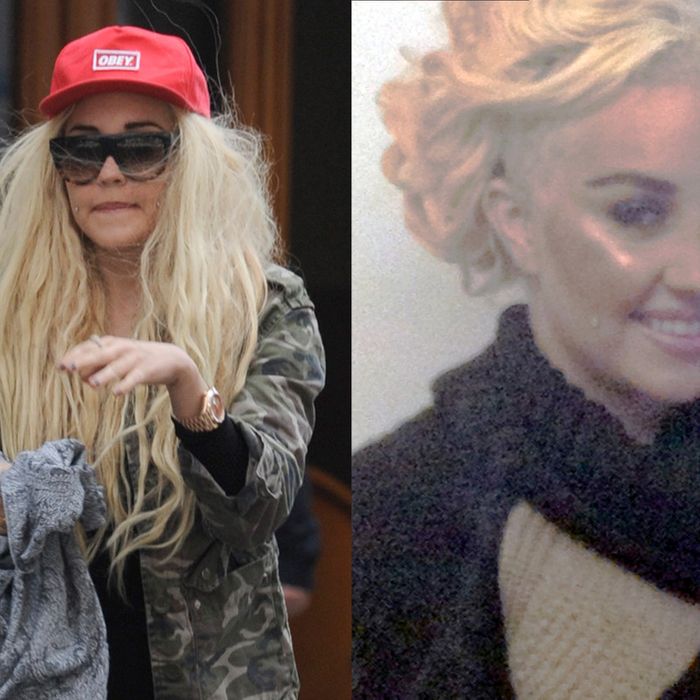 Photo: Steffman-Turgeon/Splash News; Twitter
Amanda Bynes's state of mind in recent months has been expressed through her hair. When her extensions were "matted and messy," it was a sign that she "has had a rough time of late." When she dyed her hair red, then tweeted and deleted, "I've never been a redhead! Somebody keeps posing as me," it was a sign either of paparazzi-evading desperation or a break from reality. Two weeks ago, a claim that damaged hair had driven her to shave her head (and replace her hair with extensions) drew comparisons to Britney Spears. Last night on Twitter, Bynes finally revealed her "buzzed" scalp. And it wasn't as bad as we'd feared!
Her shaved head is a hairdo, not a sign of insanity.
"No more old photos!" refers to Bynes's quixotic mission to convince the press to use selfies from her Twitter feed instead of recent paparazzi shots or older red-carpet ones when they write about her. But the good news is, she recently demonstrated an understanding that tabloid magazines prefer professionally shot photographs over cell-phone selfies.
"I don't talk to light fixtures," Bynes clarified three days ago in a tweet that began, "Dear @UsWeekly - I don't know why u feel the need to make up stories about me." And though she may not talk to light fixtures and her shaved head mimicked Cassie's style, not Britney's meltdown, the fact that Bynes needs to deny talking to light fixtures in the first place is, perhaps, the most damning sign of all.