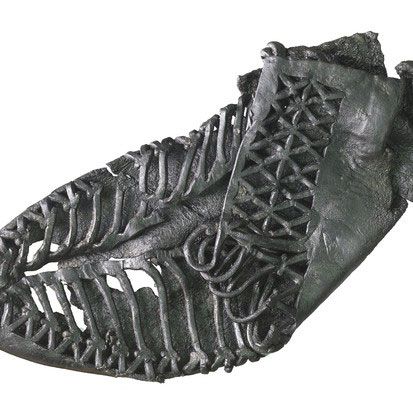 Roman shoe.
Photo: Museum of London Archaeology
Archeologists recently dug up an old Roman gladiator shoe, made from leather sometime during the first century A.D., beneath the site of Bloomberg's future London headquarters. Called a "carbatina," it's a particular type of footwear that was folded onto the foot and secured with stitching. Naturally, Bloomberg got the scoop on this news, and has dubbed the area "Pompeii of the North."
Additional treasures nestled in the dirt nearby included good-luck charms, coins, and yet more shoes that might lead you to believe you'd stumbled upon a very rich and important person's closet from London's Roman days. However, it's more likely just an ancient dump, according to scholars, one of whom noted the items were "incredibly smelly," gladiator shoes included.