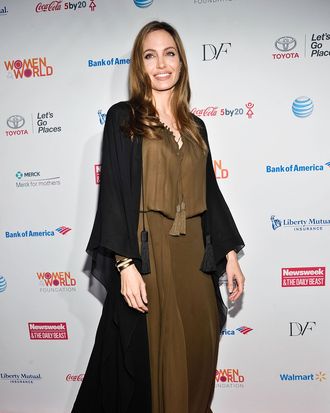 Photo: Daniel Zuchnik/Getty Images
At yesterday's Women in the World Summit in New York, Angelina Jolie introduced Malala Yousafzai, who spoke to the audience through a video feed about her fund. And, writes the Daily Beast, the actress announced that she donated $200,000 to the 15-year-old's efforts. For the event, Jolie kept both of her legs inside of her spring 2013 Saint Laurent ensemble, but even that wasn't good enough for some people! An incomplete roundup of headlines from around the web:
• "Angelina Jolie Got Lost On Her Way to a 'Star Wars' Convention" —People StyleWatch
• "Is Angelina Jolie appearing in Game of Thrones?" —CelebrityRedCarpet.co.uk
• "What Was Angelina Jolie Thinking With This Red Carpet Look?" —Styleite
• "Angelina Jolie At Women In The World Summit: Wears 'Maleficent'-Like Robe" —HuffPo Canada
• "Proof That Angelina Jolie Isn't Perfect After All" (with "gnarly toe" analysis) —omg! from Yahoo!

She can never win, can she?