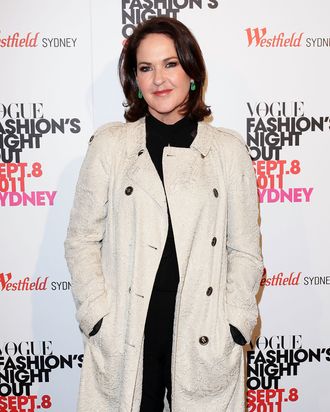 Kirstie Clements.
Photo: Lisa Maree Williams/Getty Images
Former Vogue Australia editor Kirstie Clements was sacked last May and apparently got a book deal the very next day. Her new tell-all, The Vogue Factor, includes a disturbing tidbit about models eating tissues to keep skinny. "Apparently they swelled in your stomach," Clements explained to Entertainment Tonight. Sadly, this isn't the first time we've heard stories about models ingesting toiletries instead of calories: Sessilee Lopez's mom wrote several years ago that she'd seen girls consume cotton balls to feel full.
Clements continues:
It's not every model, but there are certainly parts of the industry where you will see that girls have got eating disorders … They're normally required to lose a great deal of weight to actually get into those sample sizes that you'll see on those international runways, and that's where you start to see trouble happening.
This is not a new problem, but Clements still feels guilty about her role in an industry that allowed this to happen:
I did consider myself to be part of the problem, to tell you the truth … I felt that that everybody was complicit in it … As an editor, as a woman as a mother, I would make my judgment calls as the models passed me … as to whether I felt that they were too thin … and you had to make that call every single day.
While it's always good for industry folks to air these issues, one also wonders if Clements ever made "judgment calls" about models who weren't thin enough. It's easy to point fingers in this game, especially once you're out of it.