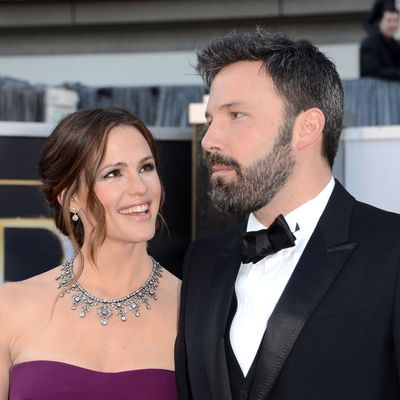 Photo: Jason Merritt/Getty Images
You wouldn't guess it from Ben Affleck's Oscar speech shout-out to wife Jennifer Garner — which sounded like he was laying her off after ten years of hard marital labor — but he and Garner have the kind of gender-role-fluid marriage that makes progressives swoon.
Writing in The End of Men, Hanna Rosin calls such arrangements "seesaw" marriages, in which each partner takes turn playing homemaker and breadwinner, depending on who's making more money, got better benefits, able to work from home, working on a second degree, etc. In seesaw marriages, no one "has it all at once," as Madeleine Albright recently put it, but everyone gets to do everything. The most famous example currently resides in the White House and, coincidentally, tele-presented Affleck that Oscar!
So after a busy couple years becoming a serious director and starring in Terrence Malick's To the Wonder, Affleck is down-shifting his end of the marital seesaw into homemaker mode, a process we call "leaning out."
"I'm going to take on some more of the burden," Affleck told Us Weekly. "There's going to be a little Mr. Mom action and I'm going to get back in the ring." "She's got a couple movies coming up," he added.
Previously, Garner's acting career had taken a backseat to raising their three kids, Violet, Seraphina, and Samuel.
"I definitely work less because Ben is so busy but we have three kids, that's just part of the deal. I want to be a mom," she told the Telegraph. "I'm happy for him that he's as energized about work right now as he is. He should be out there doing it. That's just what makes sense for our family."
Now Ben's at home, Jennifer's end of the plank is going up, up, up! With Ben's blessing, of course.
"Ben's always saying, 'You need to work, it's a part of you and you're a different person when you're working, '" Garner said in the same interview. "I've reserved this summer [for work]. It's mine."
As for what's in store for Affleck, leaning out can do wonders for the soul, if today's New York Times Magazine profile of "disgraced former congressman" Anthony Weiner is to be believed. Previously one half of a two-breadwinner power couple with Hilary Clinton senior staffer Huma Abedin, Weiner went into full-on Mr. Mom mode post-scandal: "going to the park with [son] Jordan; picking up his wife's dry cleaning and doing the grocery shopping; eating at his brother Jason's two restaurants in the neighborhood." 
According to friends and family, "the post-scandal Weiner, the diaper-changing Weiner," — who also happens to be the in-therapy Weiner — is more introspective and less belligerent. "There was definitely a douchiness about him that I just don't really see anymore," his brother Jason said.
"I'm really trying hard to let things come to me a little bit more and be less about leaning in to every element of my life," Weiner told the Times (emphasis ours). "And I think I'm a better person for that reason. It allows thoughts to breathe a little bit more."