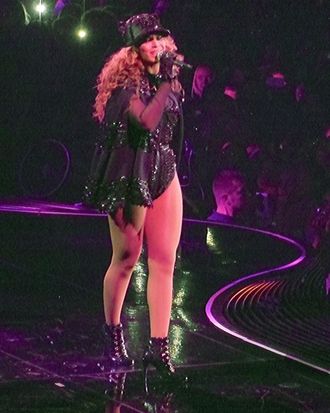 Beyonce and Givenchy cape.
Photo: AR5/ZJE/WENN.com
During the past week, Beyoncé has worn the following things to one or more of her Mrs. Carter world tour performances:
One sequined cat hat.
Two different sets of golden nipples.
One butt lampshade.
One trapeze harness.
An immeasurable number of embroidered crystals.
And over the weekend, she added one more thing we never realized we'd been yearning for: a sparkly tear-away cape! Designed by Givenchy's Riccardo Tisci, its overall effect is very Catwoman, particularly with the ear-trimmed hat. Also of note: It's embroidered with sequined black stars and stripes, as though the American flag had a particularly attention-seeking, lipstick-wearing, ass-shaking younger cousin. Hopefully she keeps trotting out these little wardrobe additions as the tour continues.