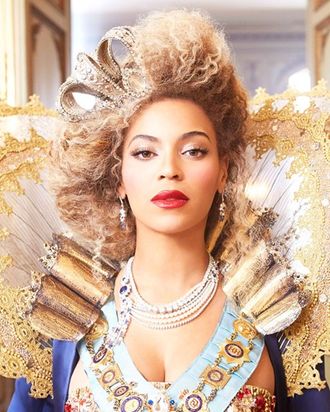 Beyoncé's performance outfits are typically the stuff of legend, or at least awesome YouTube videos. When she's not wearing sequined getups by her mom Tina, she has worked with Thierry Mugler — the man, not the label — for her 2009 I Am world tour, and the edgy New York–based Rubin Singer for her iguana-trimmed Super Bowl halftime show outfit (you know, the one with the exciting tearaway skirt). Last month, she confirmed that Julien Macdonald (who's been referred to as the British Roberto Cavalli) would design costumes for the upcoming The Mrs. Carter Show tour. And in the latest wardrobe development, British Vogue — who put Beyoncé on their May cover — reports that DSquared2 will also pitch in some tour outfits.
This is an interesting choice. Beyoncé could have any designer she wants for her tour costumes — she has Met Gala–worthy Givenchy dresses just lying around her home, after all — so why did she pick the Canadian-born, London-based twins whom we will forever associate with Bravo's Launch My Line (R.I.P.)?
Although this appears to be DSquared2's first time working with Beyoncé, designers Dean and Dan Caten have a long history with pop stars. Their 2005 fashion show ended with Christina Aguilera ripping clothes off of male models on the catwalk. Rihanna drove a car onto their runway in 2007. They designed over 150 items for Madonna's Drowned tour in 2001, and outfitted Britney Spears for her Circus tour in 2009.
So while it's a little disappointing that Beyoncé didn't tap a more exclusive designer because she can, rest assured that the Catens know how to make clothes that look cool while she dances her ass off. And at the end of the day, that's more important than all the iguana leather and tearaway skirts in the world.