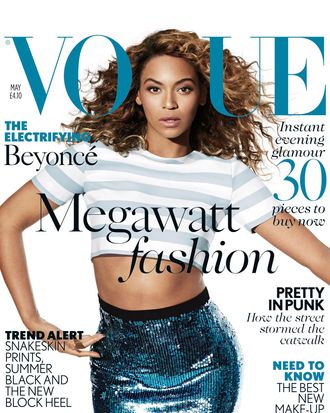 Beyonce et crop-top.
Photo: Conde Nast
Beyoncé's first British Vogue cover was leaked last week, but today it's out for real, in all its sparkly crop-topped glory. This comes on the heels of her most recent American Vogue cover, published in March, as well as her HBO documentary, which aired in February; what new topics could she possibly have to discuss now? Not much, it seems: The full-length profile is not online, but a teaser on Vogue U.K.'s website says that she is "unusually candid about marriage, motherhood and her musical journey, opening up about her love for husband Jay-Z, her determination to remain true to her instincts and her passion for a job which has seen her singing professionally for nearly 20 years." Maybe she'll even address the surrogacy rumors again.
What is exciting, though, is her cute cover outfit, a belly tee and a very sparkly high-waisted skirt, which epitomizes the way we should all wear this spring's trendy crop-tops. See how her waistband just reaches past her belly button, highlighting the most universally flattering part of her ribcage? Not that she would look bad in anything else — she covered GQ in an entirely different crop-top look and still looked amazing, although that ensemble isn't quite as easy to emulate or, you know, wear out in public. Speaking of which, this Vogue outfit wouldn't necessitate a shopping trip, as you could just take some scissors to one of your normal-length shirts, easy as pie.