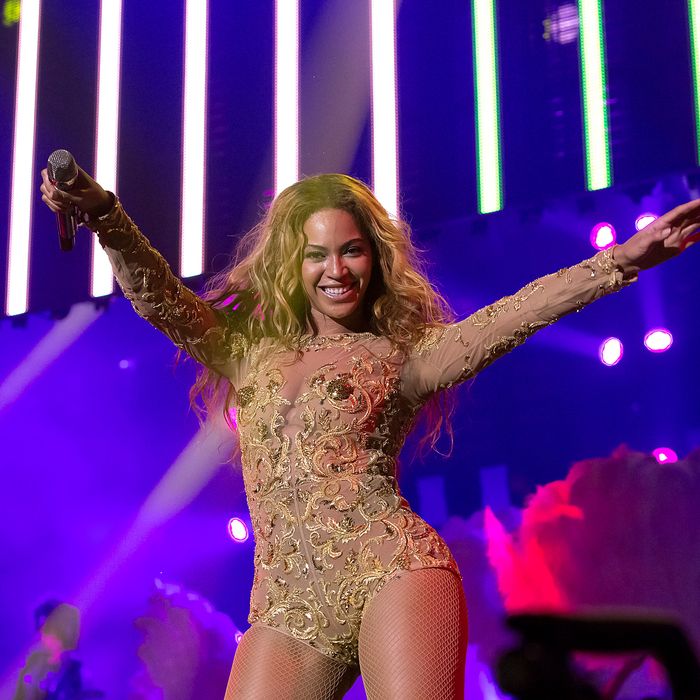 Beyonce's nipple outfit redux.
Photo: Yosra El-Essawy/Invision/AP
Beyoncé debuted yet ANOTHER golden faux-nipple look at her second Mrs. Carter performance in Croatia last night, just two days after she enthralled the world with her crystallized trompe l'oeil bodysuit in Belgrade. Is the shiny nipple adornment Beyoncé's new "thing"? Will this remain a theme of her world tour? What does it all mean? Cut Charlotte and Cut Maureen continue their discussion.
Maureen: She has gone NIPPLE WILD. Do we blame breast-feeding? Cold chills from never wearing pants?
Charlotte: I'm perplexed by the sincerity of her costumes. Normally nipple adornments are comedic, like Katy Perry's cupcake boobs or the nipple-guns in Austin Powers. Even the designers who put nipple outfits on runways, like the Blonds (who designed her first boob outfit) and Jean Paul Gaultier, are known for being tongue-in-cheek. But Beyoncé's demand to be taken seriously.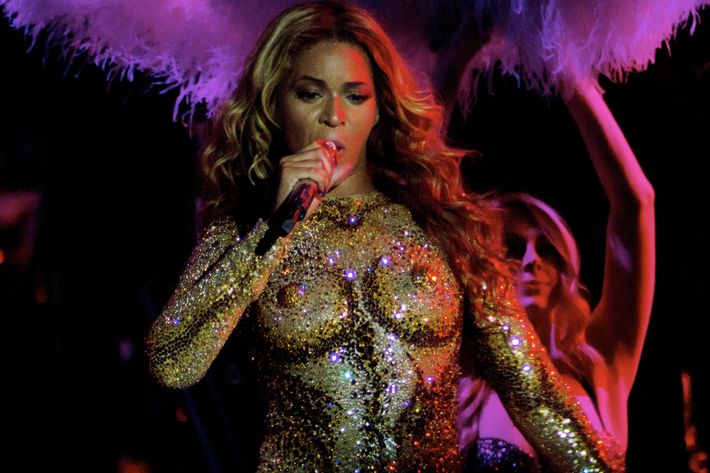 Maureen: It's like your spray-tan illusion sculpting, but in crystals. I think I'm into it. There's something so amazing about the "Fuck Yeah, I Have Nipples" attitude, though. It's such a small gesture, and yet never really done before in such a mainstream setting.
Charlotte: It's also utterly unwearable in any other setting, which is a good thing, I suppose. Beyoncé SHOULD be wearing things that can't be replicated willy-nilly, because she CAN. Speaking of, isn't it interesting that she's doing this in the wake of Anne Hathaway's nipple "scandal" at the Oscars? We're such a nipple-fearing society, and Bey letting hers shine is a big statement.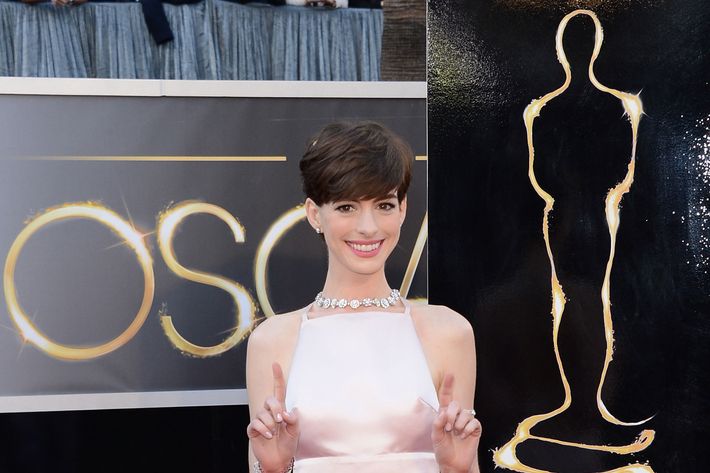 Maureen: What if nipples were not something to be "slipped" or "malfunctioning," but something to celebrate? That is Beyoncé's question.
Charlotte: The way to subvert our society's nipple fear is to make them glamorous, not scandalous.
Maureen: The paparazzi age has made us simultaneously more and less prude — we are more familiar with private parts, but we also make a bigger commotion every time we see them. Critics of the system say, "Stop talking about nipples." But Beyoncé says, "Let's talk about nipples. MY WAY."