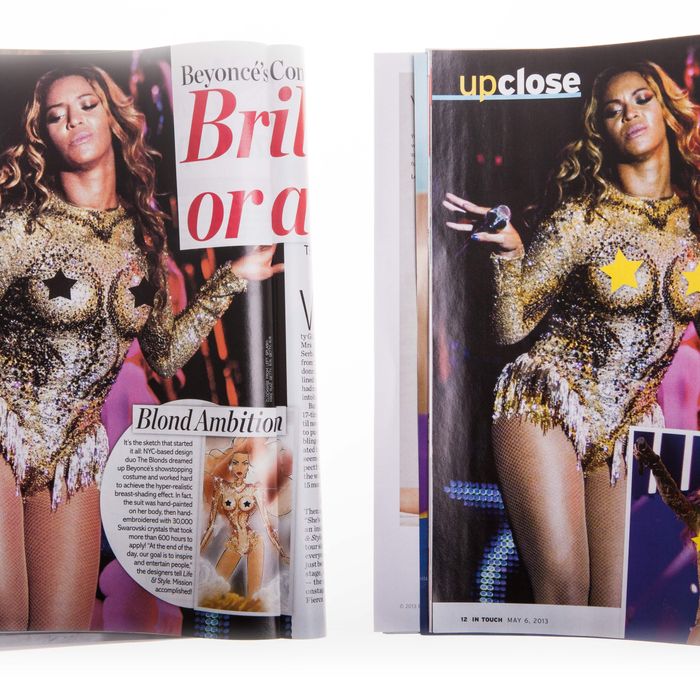 Several pieces of very important Beyoncé news this morning, which we'll deliver in chronological order: First off, true to our predictions, several tabloids censored the golden trompe l'oeil nipples Bey wore at her debut Mrs. Carter concert last week. Even faux nipples are too much for the readers of In Touch and Life and Style, apparently! Both publications covered up the offending parts with stars, even on an illustrated version of the costume. This will surely result in at least one young child forming the impression that adult nipples resemble pentagrams. (Or maybe just that Beyoncé's do.)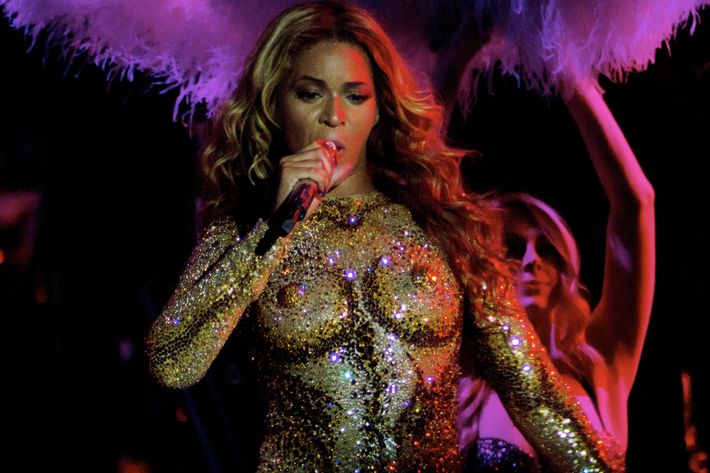 Next up: During the Paris leg of her tour last night, Beyoncé premiered her new single, "Grown Woman," along with a new outfit, by Kenzo. According to a press release from the label, designers Humberto Leon and Carol Lim adapted the bustier and shorts from their spring 2013 collection — and by "adapted," they mean added a ruffly bustle over Bey's butt that she could shake around. Kenzo also designed the backup dancers' leopard-print costumes.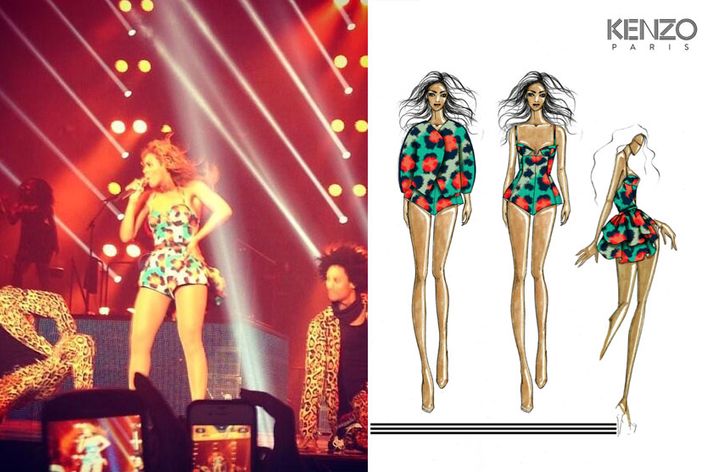 And last but not least, Bey's new H&M commercial is out! It's basically just an ad masquerading as a music video for her song "Standing on the Sun" (or maybe vice versa). Enjoy a full minute and thirty seconds of Bey rolling around in the sand wearing various beachwear pieces, and in one case, sitting on a throne surrounded by tiki torches. But what's interesting, in light of the censorship scandale, is that even when Bey is rolling around in the ocean in a wet H&M dress, her nipples remain entirely under wraps. There's not a protrusion in sight! Which is totally unrealistic, particularly when white fabric is concerned.
The moral of this story: Nipples — whether they're real, fake, or sequined — are still considered unfit for the American public, even when they're Beyoncé's.