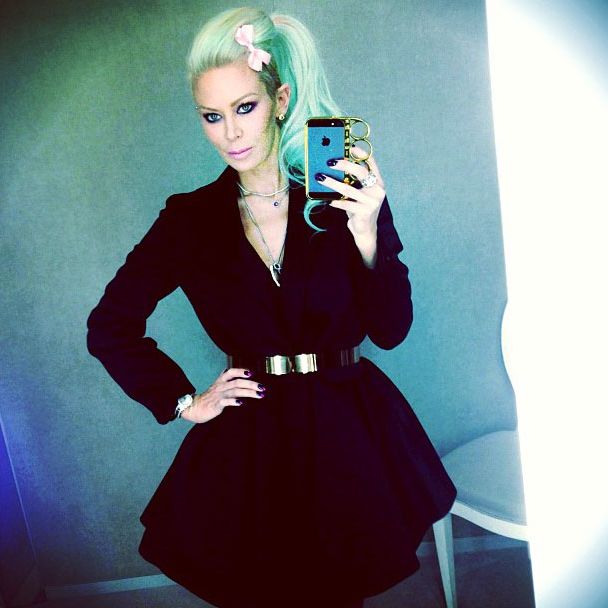 Photo: jennajameson / Instagram
When Rihanna first started carrying an iPhone case designed to resemble brass knuckles, there was some debate whether it — and fashion accessories like McQueen's Knuckle Duster clutch — qualified as a weapon. EBay banned sales of knuckle-duster phone cases, while lawyers debated the legal implications. Today, we have our first celebrity exemplar of knuckle-accessory-as-weapon: Jenna Jameson's alleged hair salon brawl with personal assistant and porn star Britney Markham involved a weaponized knuckle-duster iPhone.
Orange County's district attorney has declined to prosecute Jameson owing to lack of evidence, but Markham is pursuing a restraining order, which TMZ summarized:
Jameson allegedly went all Naomi Campbell on the transgender gofer [Ed: Weird wording, but they're referring to Markham being both a transgender porn star and Jameson's assistant], but with a dangerous twist … a BRASS KNUCKLES CASE on her iPhone 5 … according to legal docs.

Shocking details of the arrest have now emerged in Britney Markham's restraining order request, filed by attorney Adam Krolikowski. She claims Jameson barged into a Newport Beach salon and started bitching at her, and eventually punched her in the stomach and back with the weaponized device.

Markham claims Jameson then threatened, "I'll f***ing kill you." 
Leave it to Jenna Jameson to prove that weaponry-inspired fashion accessories actually can be weaponized. Now the only question is, when Jenna poses with her iPhone on Instagram, is it the equivalent of a weapons hoarder posing with her arsenal?