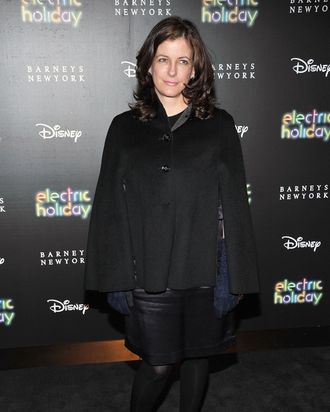 Photo: Theo Wargo/Getty Images
In the Times Thursday "Styles" section, Ruth La Ferla takes a look at the woman, the mystery, Bridget Foley. The executive editor of WWD, "Foley rarely comments in any context," La Ferla writes. "She doesn't trade snarky quips with her colleagues, [and] shies away from the ubiquitous cameras." She describes herself as fashion's cheerleader, but her support is conditional:
Five years ago, when Phoebe Philo was named the creative director of the luxury fashion house Céline, Ms. Foley was miffed that she had been among the last to learn of the appointment. "I'm not going to that show," she told [the paper's publisher Patrick] McCarthy abruptly before Céline's debut presentation in New York. She stuck to her guns, Mr. McCarthy recalled with a chuckle, "and in the end I went on my own."
More so than championing the industry, Foley's priority seems to be maintaining the prestige of the trade. One example: Her reviews run un-bylined (as all reviews do) and only recently did she tack on her name to a previously unsigned column now called "Bridget Foley's Diary" — as La Ferla says, "it now appears erratically (several times a month, at best)," and is "accompanied by a caricature of Ms. Foley as an attractively vixenish newshound." After the Inauguration, her piece "Fashion Pound Puppies" set off the equivalent of a style site Drudge siren, with sentences like, "Mrs. Obama isn't an indulged starlet primping for the Oscars, nor should she behave like one." And worse, WWD.com's commenting system was down, so no one could properly e-bitch!
It also sounds as though Foley's strategy might not be doing WWD any favors. From the Times:
"I don't know that today the paper resonates in the way that it did when Mr. Fairchild was there," said [Robert] Burke, [a] fashion consultant. "Back then, women who were fashion-wise would subscribe. They would come into Bergdorf waving tear sheets from WWD, and would show us the look they wanted."
La Ferla adds, "Nor does it help that the paper is slow to anoint new fashion stars, a practice once at the source of its formidable power." For the executive editor, the jury's still out on Hedi Slimane's debut collection for Saint Laurent; she wonders, "Was Hedi's mandate to move the fashion needle? Or was it simply to sell clothes?" Come on. Even my grandma had an opinion.