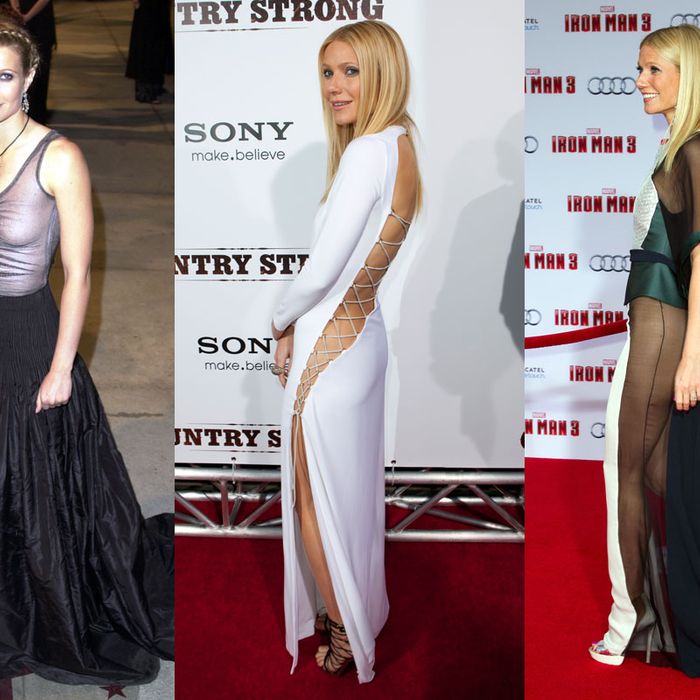 Photo: Getty Images, Corbis, Splash News
Airing her derrière in a gown with sheer side panels on the Iron Man 3 red carpet, Gwyneth Paltrow illustrated the burgeoning side-butt trend this week. But a closer inspection of Paltrow's style history reveals that Gwyneth Paltrow was side-butting before side-butts were cool. She has a personal affection for bottom-revealing and see-through clothing. Here is an obsessive cataloguing of those looks:
TWO GWYNETH SIDE-BUTTS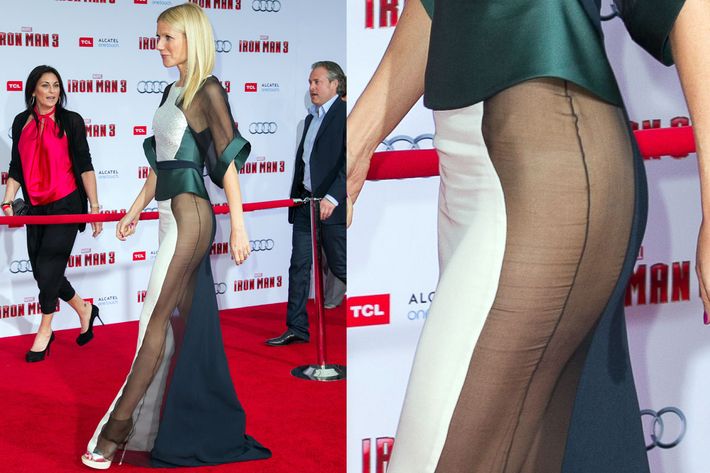 1. The Iron Side-Butt
"I couldn't wear any underwear," Gwyneth said of the Antonio Berardi gown she wore to this week's Iron Man 3 premiere. "Let's just say everyone went scrambling for a razor." The eleventh-hour scramble revealed two things: Gwyneth Paltrow is committed to side-butt, and Gwyneth Paltrow has not yet lasered off every hair on her body. Since high-maintenance body perfection is part of Gwyneth's "personal brand," the latter revelation was fairly surprising. She was an early proponent for Brazilian waxes, after all.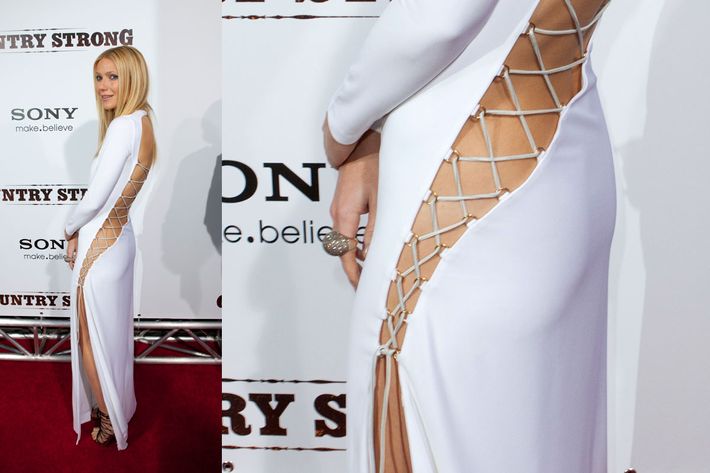 2. The Lace-Up Side-Butt
Gwyneth also showed side-butt at the 2010 Country Strong premiere, as well. Her backless, side-slit, lace-up gown was designed by Emilio Pucci.
THREE GWYNETH NEAR-BUTTS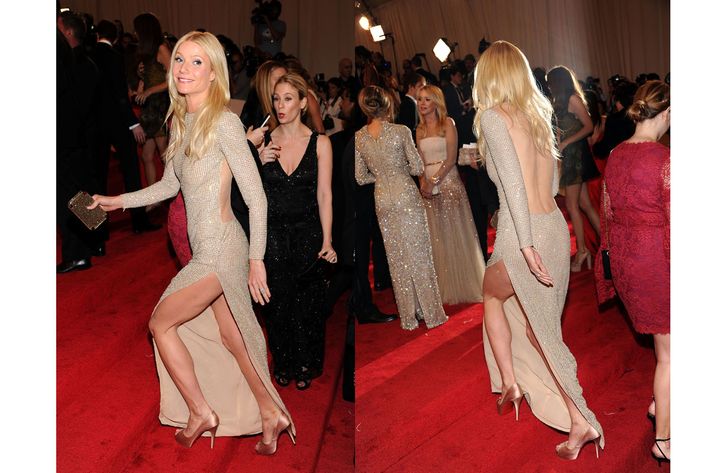 1. The Nude-Hued Near-Butt
Ultimately, Gwyneth's side-butt is tied to her love of her legs. Leg-slit dresses, like the Stella McCartney number she wore to the 2011 Met Ball, are a wardrobe staple. Like her Pucci Country Strong gown, Gwyneth's 2011 Met gown features an open back.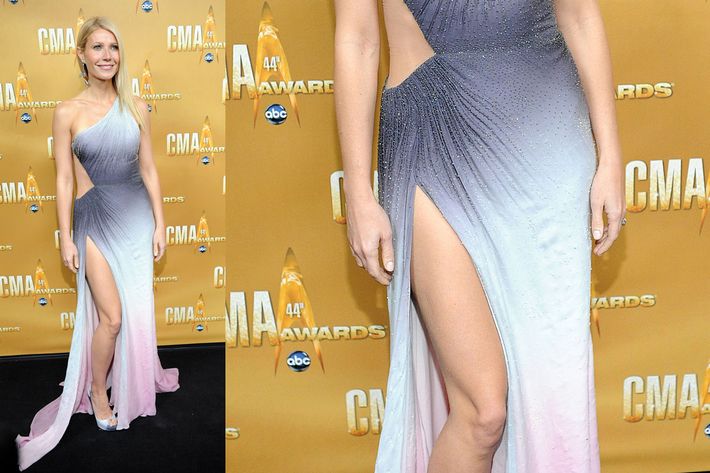 2. The Ombré Near-Butt
Likewise, the Atelier Versace gown Gwyneth wore to the 2010 Country Music Awards also featured a butt-level leg slit and cut-away bodice. Assuming she was not subjected to any sudden gusts of wind, no side-butt explosure in this one, though.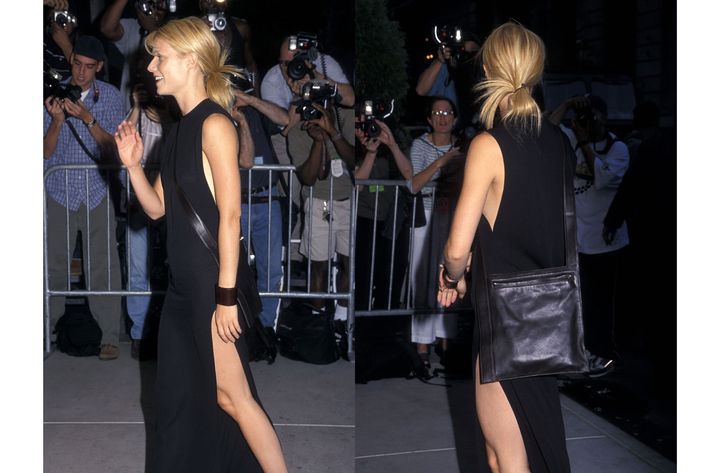 3. The Hideous Messenger Bag Near-Butt
As early as 2000, Gwyneth Paltrow was rocking the near-butt — shielded by a messenger-style purse. God, remember when celebrities were allowed to carry practical purses on the red carpet? The New York theater premiere of Butterfly was before our modern era of celebrity styling, clearly.
ONE GWYNETH SIDE-PUBIS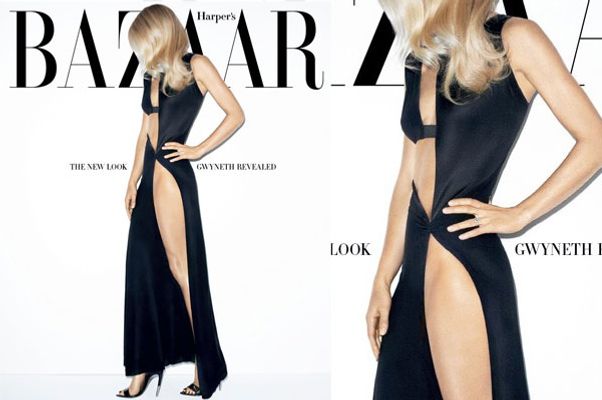 The Faceless Side-Pubis
The intense desire to bare Gwyneth's gams led Harper's Bazaar to showcase her side-mons-pubis in March 2012. Few celebrities dare to bare side-pubis. A notable side-pubis did, however, appear on the 2012 Met Gala red carpet, attached to the body of model Anja Rubik. Gwyneth and Anja both displayed their side-pubises in Anthony Vaccarelo gowns.
FOUR GWYNETH TRANSPARENCIES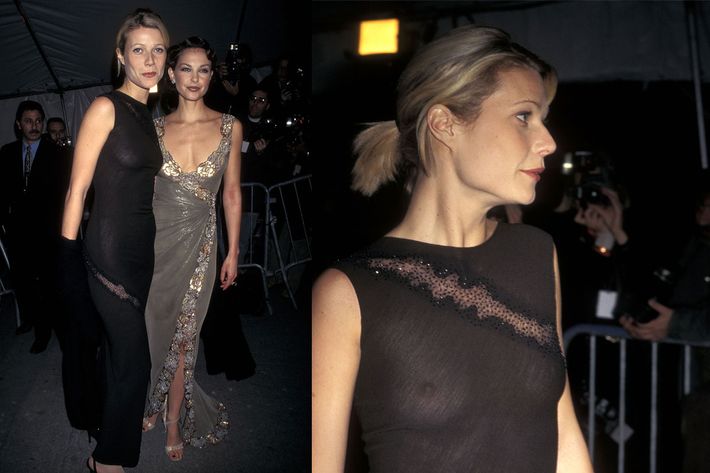 1. The Boat-Neck Transparency
Since Gwyneth's entire 1997 Met Gala gown was transparent, this dress could count as a side-butt dress, too. Side-Judd is a bonus. Whereas Gwyneth's side- and near-butt garments have drawn mixed praise, the actress has been roundly rebuked for most of her see-through garments.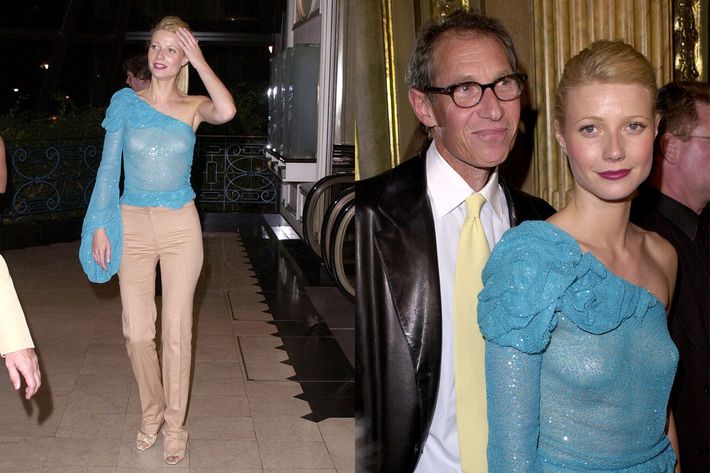 2. The Teal Rumba-Dancer Transparency
At the Toronto Film Festival in 2000, for instance, Gwyneth wore a transparent top in front of her dad. That's Bruce Paltrow behind her in the photo at right.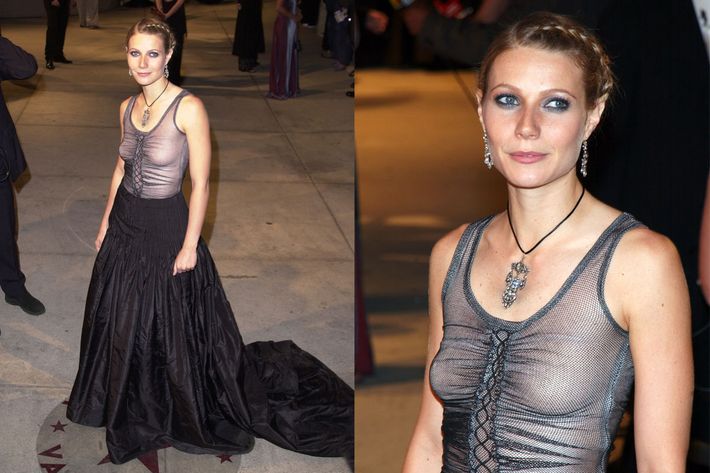 3. The Droopy Transparency
Whether the much-maligned Alexander McQueen gown Gwyneth Paltrow wore to Vanity Fair's 2002 Oscar Party was sheer or merely unflattering remains unclear. Nonetheless, Gwyneth recently noted, "I should have worn a bra."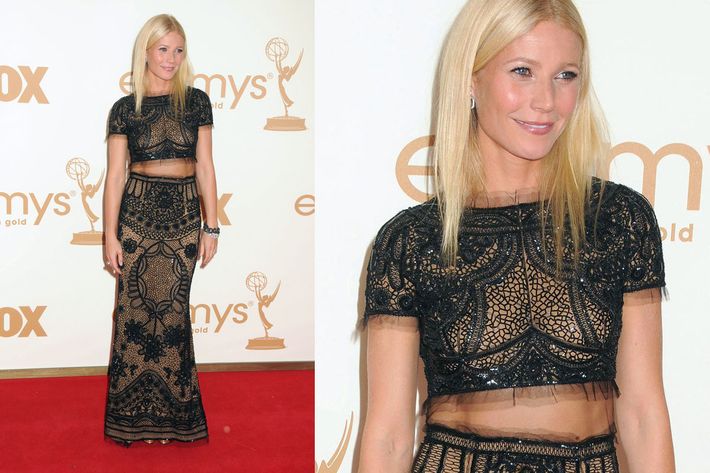 4. The Transparency Kim Kardashian Wore Better
Likewise, the sheer, midriff-baring Emilio Pucci ensemble that Gwyneth wore to the Emmys in 2011 may have been lined. But the scalloped beading on the top created an underboob illusion that could not be ignored. The widely reviled look was so wrong on Gwyneth that it actually looked classier when Kim Kardashian wore it.
IN CONCLUSION: Show us your side-butt, Gwyneth. Show us any part of your body that you want. But do not wear sheer clothing. Sheer clothing so often goes poorly for you.