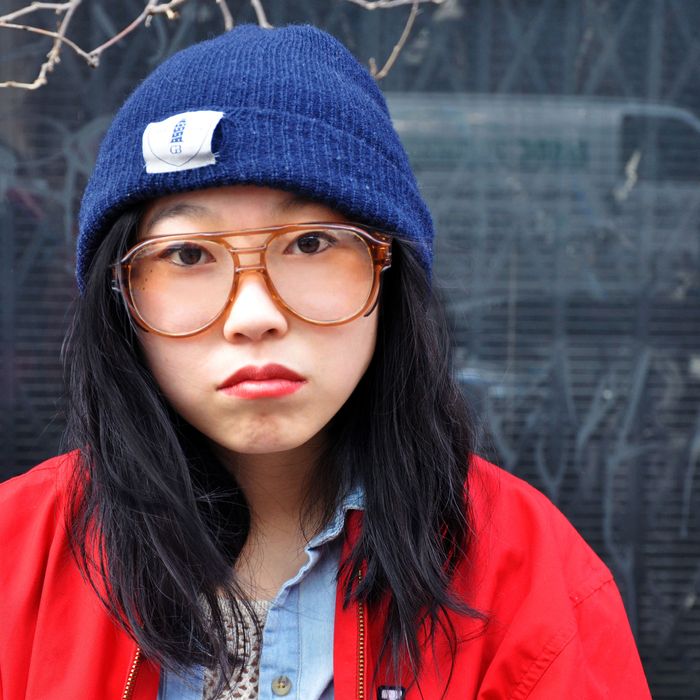 As we take a few pictures outside Everyman Espresso in the East Village, Nora Lum has a question: "Do you want to do them with the Awkwafina glasses?" She's referring to what she wears as her rap alter ego, Awkwafina. She bought the thick, aviator-style, brown translucent-plastic frames at a Salvation Army and filled them with her prescription. They stretch her face — either to comedic or hipster proportions. I can't decide.
Lum — in a bright red sailing jacket, lips to match, and a navy beanie atop her rumpled but stylish bedhead — is a natural in front of the camera, but she doesn't know it yet. A man walks by and tells her she is beautiful. ("Thank you!" she says, appreciative but still surprised.)
"Awkwafina is more confident and out there," she tells me afterward. "I don't think that Nora embodies the shy Asian girl, but I don't think that I would be able to say the kind of things [Awkwafina says]." As Nora, she is sharp and wisecracking ("What's your drink?" I ask her. "Like half a beer because I'm Asian," she responds in her deep, throaty laugh), though she sits in front of me with back hunched, fingers peeking meekly out of her jacket sleeves to hold her small coffee. She speaks with awe of Haruki Murakami and disgusted sarcasm about the hipsters she thinks have drowned Williamsburg. She calls me "girlfriend" and tells me earnestly how much she loves Ted Danson on Cheers.
Later, in front of the camera outside, her alter ego comes with the same glasses those hipsters wear. As Awkwafina, she offers a pouty sneer, throws up faux gang signs, sticks out her tongue, and flicks me off with a raised eyebrow.
Lum began by dabbling in rap at 17, seven years ago, producing her own tracks quietly and messing around with the program GarageBand (she has since moved on to Ableton, a less amateur option). After leaving a corporate publicity job, she became obsessed: Sometimes she'll sit for 72 hours straight working on one song — messing with different beats, writing lyrics, putting it all together. Lum's aural choices are sometimes delicately tinny, sometimes grungily thumping. Her lyrics have a provocative showiness and enough wit that her occasionally droll delivery has been categorized as Daria-like.
Awkwafina has also been compared to Kreayshawn, but maybe that's just because there's few new female rappers out there to reference. She doesn't have Kreayshawn's danceable, cartoonish femme style or Nicki Minaj's almost-alien diva attitude or Azealia Banks's deliciously dirty mouth or Iggy Azalea's slow-moving swagger. In fact, in her Seinfeld-ian commentary on some of life's more mundane details (flu shots, Ikea, turning red when she drinks), she more closely resembles Childish Gambino — Donald Glover's rap alter ego — in terms of lyrical content and quick, smart turns of phrase. You could call her a thinking person's rapper, one who takes herself just seriously enough to produce something that stands out for being funny. Take, for example, her recent video of "NYC Bitche$": It features her reading Joan Didion (The White Album, one of her favorite books), hugging an inflatable penis (a gift from a friend for her 16th birthday), and referencing Alanis Morissette's "Ironic" video (the car scenes).
"I think rap in general allows you to be more lyrically expressive," Lum says. "It's a lot easier to state your identity, as opposed to with a guitar making all these weird metaphors." She also doesn't want to make political songs, or anything she feels is too "culturally representative." And though she's been flexing her comedic muscles in her first songs, she's not even sure she wants to do that regularly: "I can't tell if I want to be a rapper who's funny because I kind of enjoy just doing really stupid songs about nothing," she says. "But I want to have a career that's long-lasting and I don't think people want to listen to a straight-up comedy rapper all the time."
Still, without even trying, her songs have become more than jokes. Her first single,"My Vag" — Awkwafina's a genius/ And a vagina is 50 times better than a penis — was released in October 2012 and almost instantly picked up by the Hairpin, the Frisky, Bust, and other lady blogs and magazines. Lum didn't intend it to become a feminist anthem. "If you spin it to be a feminist song, there's always going to be something offensive about it because I didn't write it for that: It's just a very crass celebration of having a vagina. Not a PC one."
If "My Vag" put Awkwafina on the map, "NYC Bitche$," which she released in March of this year, further established her presence as a commentator on culture. In the song, she critiques "that mess that Jay-Z call a stadium," wealthy city transplants, and the young artists that live in Bushwick.
New York City, bitch/ That's where I come from/ Not where I moved to/ On mom and dad's trust fund.
Lum grew up in from Forest Hills, Queens, of Chinese and Korean descent. She attended LaGuardia High School where she studied music, focusing on the trumpet ("I played 'I Wanna Hold Your Hand' at the audition, and they let me in," she smiles), which she still picks up every now and then. From there, she went to SUNY Albany, where she majored in Women's Studies. Not surprisingly, this has changed her view of the rap game. "If women dabble in rap but they're not rappers, to get from dabbling to doing it is really difficult, confidence-wise," she says. "There's a degree of having to prove yourself, also, and that's really hard: I'm not trying to ruin your institution, I'm trying to be a part of it."
But Awkwafina's not just in the rap minority as a female, she's also in it as an Asian female. She says there aren't enough similar women in creative fields like hers. "The Asian stereotype is real. The whole guilt trip, like we came on a dinghy from Hong Kong to give you a better life, we work at a friggin' sock store, and we want you to become a doctor so you can take care of us for the rest of your life." Her father wishes she would reconsider her career choice. "He wants me to be like a sonogram technician or a nurse or something," she says, nodding, as if that sounds like her own version of failure.
There are a few Asian rappers out there, but all of them are male. Perhaps, she says, because the women that come from those communities are taught to be less outgoing. "I grew up thinking Margaret Cho and Lucy Liu were my idols because that's it," she says. "I think that if I could contribute anything, it would be to say that it's not that weird," to be doing what she's doing as an Asian woman. Even as her lyrics stay light, for now, there's a subtext here: Changing the face of rap will change the future for Asian women, too.