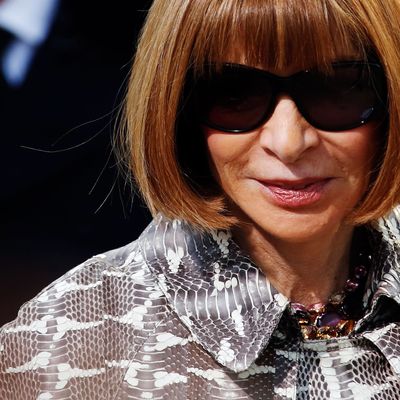 Anna Wintour.
Photo: LUKE MACGREGOR/Corbis
The definition of Anna Wintour's new role as Condé Nast's artistic director may remain nebulous, but apparently she's begun tackling one of the company's more troubled publications, Lucky. The Post reports that Lucky editor Brandon Holley was one of the first to approach the newly promoted Wintour for advice last month, which makes sense, because Lucky needs all the help it can get.
A brief summary of Lucky's recent troubles: After a 20 percent decline in ad pages in 2012, the magazine's publisher of eighteen months, Marcy Bloom, resigned in January and was replaced with Gillian Gorman Round, a former beauty industry executive with very little experience in publishing. In February, Condé announced that they were reducing Lucky's frequency from twelve to ten issues per year. Meanwhile, the magazine's newsstand sales dropped 30 percent to under 100,000 copies in the second half of 2012, according to the Alliance for Audited Media.
In the meantime, Lucky has been trying to shift its focus to digital, particularly with a focus on e-commerce. This makes sense, as it's a publication geared towards shopping, so they might as well get a cut from the things they help sell, right? But Condé is notoriously pokey with all things Internet-related, so the process has been slow. Lucky promised a new e-commerce platform in January, but they haven't made any announcements about it since.
Harnessing the Internet isn't really Wintour's forte, but Lucky clearly needs rehabilitating, and it'll be interesting to see if and how Wintour helps. However, she did describe her new role as "almost like being a one-person consulting firm," and everyone knows that the best consultants stay behind the scenes, so we may never really know.