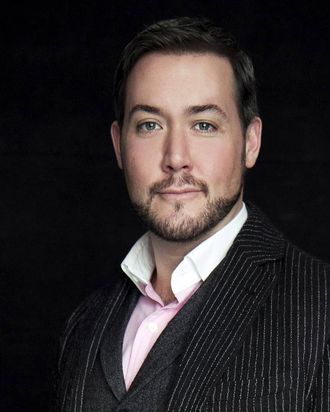 Photo: Courtesy of The Aesthete
"I'm a Canuck, I am a Canuck," laughed Adrian Mainella, the 35-year-old editor-in-chief at the helm of the Aesthete, a digital New York–focused arts, culture, and style magazine. Mainella lived in Canada and worked in Toronto his entire life, until roughly two and half years ago, when he left behind his broadcast roots (he was previously the host of a television program called Fashion File on CBC, or "the BBC of Canada") to switch gears and move to New York. He jumped onboard Joe Fresh's initiative to create an online site that celebrated New York's greatest influencers, the people shaping arts and culture in New York City. Thus far, the site's covered celebrated Momofuku chef David Chang, iconic choreographer Bill T. Jones, and New York City Ballet's principal dancer Rebecca Krohn. The Cut spoke to Mainella about his favorite fashion interviews, his personal influences growing up, and what it's like to cover the city around him while learning to love New York.
How did you get into fashion journalism and how did it influence the Aesthete?
My education was a theater degree, and then I went into marketing. I never really studied journalism, but I was really interested in fashion and what inspired some really great designers — people who seemed very authentic and genuine and knew a lot about different mediums of art and then incorporated that into their collections. [The Aesthete] was an incredible opportunity for me to leave Toronto and move to New York and be able to really immerse myself into contemporary art and culture right now.
What first enticed you about New York?
You think you know New York when you visit it often, but the truth is you can't even begin to understand the city until you really make the commitment to be there and live in the city. It's just the energy, it's just something you have to be a part of. I find it inspiring, daunting at times, and I really just don't want to live anywhere else at this point in my life. It's the mecca of Western civilization for art and culture. I moved to New York two and half years ago, and I just sort of came to the project with a few people that I really knew and trusted. I call it stone soup. I feel like I came with a cauldron in one hand and a stone in the other and said, "I'm going to make this great soup. Who's joining me?" And a lot of great people rose to the occasion.
Was this your first digital publication?
It was. I had to learn really fast about understanding the digital platform. We have such a great sense of freedom because we're feature driven and we put up a new feature each day. We have such a small staff, but we've got seven incredibly dedicated people that love what they do, or else there's no way we could turn this stuff out. I would love a photo editor, I would love another art director, but things are expensive in New York. [Laughs.]
Growing up, what were some of the publications, designers, etc. that inspired you?
At the age where I really started to enjoy publications, Graydon Carter's editor's letters through the Bush administration were epic. They are the things I miss most about the Bush administration. DUTCH magazine was such a hot and cool magazine at the time as well. There were so many great publications. I read a lot of Details when I was young as well. I was really into it.
As for people who inspired me, the list goes on and on. Fashion-designer-wise, I was a huge Marc Jacobs junkie growing up. I mean this whole thing with Chloë Sevigny in the nineties, I remember being at — I won't even mention the club — but I was 17 or 18 and I remember being like, "Oh my God. If Kim Gordon just showed up, everything would be perfect right now." Sonic Youth, Nirvana, the Grunge era had a huge impact on me. It was such a unique period of the collapse of the economy and I started high school in 1989 and there was this appreciation for an abundance, and quickly after a year or two, the economy changed so dramatically that art and culture kind of mimicked that. And, you know, even though a lot of our great artists were dying, I was appreciating artists like Keith Haring and really understanding pop culture in New York from a completely different perspective altogether — about how art and culture and music come together in one place. That was what I was into.
It sounds like you were always into the New York scene growing up?
It was always New York for me. New York was only an hour flight away. My parents, who were very generous, when we graduated high school, if we graduated with good enough marks, they would give us a trip. My oldest brother, I think, went to Acapulco. He's like six or seven years older than me. [Laughs.] My middle brother, he went to Jamaica. And then I went with a friend of mine and sort of went rogue and went to New York City. I was 17 years old and went to New York City and my parents were frightened to death. I stayed at this crappy hotel at 48th and Eighth and I was like going to the Lower East Side to check out CBGB and going to Alphabet City for the 1984 party. It was my first time embracing New York. It was 1992, I mean Times Square was still a scary place!
What was your most memorable experience reporting for fashion or entertainment?
Well, I think entertainment reporting for me was a necessary evil [laughs] to be perfectly honest. I mean, don't get me wrong, there were moments when it was really fun, I've got nothing against entertainment reporting. I met a lot of great characters along the way. I had a really interesting interview with [Pierre] Bergé shortly after Yves Saint Laurent died. And there was a lot of speculation around Bergé and Saint Laurent's relationship. It's always nice to catch somebody in their golden years because there's less need to protect what believe and what you really think, and he had such loving and kind words to say about Saint Laurent and talked about him really honestly. He spoke about his demons, his genius. I just remember learning so much — and those kinds of interviews, certainly in fashion, don't happen every day.
What's one of the greatest things about not having to be in front of TV all the time?
I get to eat again! [Laughs.] And I haven't stopped eating since I've no longer been on TV! Oh, I love it. I go into restaurants and think, "I'm having pasta! And I'm having more cheese on that pasta! [Laughs.] I will have a dessert menu, thank you." It's not enough to write about it or cover it, you've got to do it. You've got to eat it! I live in Sutton Place and sometimes I'll stop at this bar. It's my little secret in the city. They serve this massive martini, and sometimes that's my dinner.