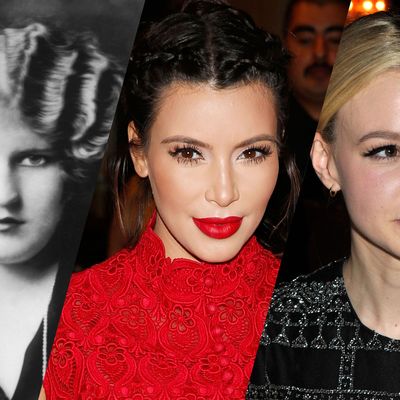 Photo: Hulton Archive/CorbisIsaac Brekken/Getty ImagesThe Image Gate/getty Images
Carey Mulligan's Vogue-approved interpretation of Daisy Buchanan for Baz Luhrmann's The Great Gatsby is inspired by F. Scott Fitzgerald's real-life inspirations: Zelda Fitzgerald, Ginevra King, and their latter-day sistren Kim, Kourtney, and Khloe Kardashian. Mulligan explains:
" 'I seem always curiously interested in myself, and it's so much fun to stand off and look at me… .' That's a direct Zelda quote. It's that kind of feeling: I'm-so-little-and-there's-nothing-to-me, watch-me-have-nothing-to-me. She feels like she's living in a movie of her own life. She's constantly on show, performing all the time. Nothing bad can happen in a dream. You can't die in a dream. She's in her own TV show. She's like a Kardashian."
You are now free to stop wondering whether Anne Frank would have been a Belieber and start wondering whether Daisy Buchanan would have made a sex tape.