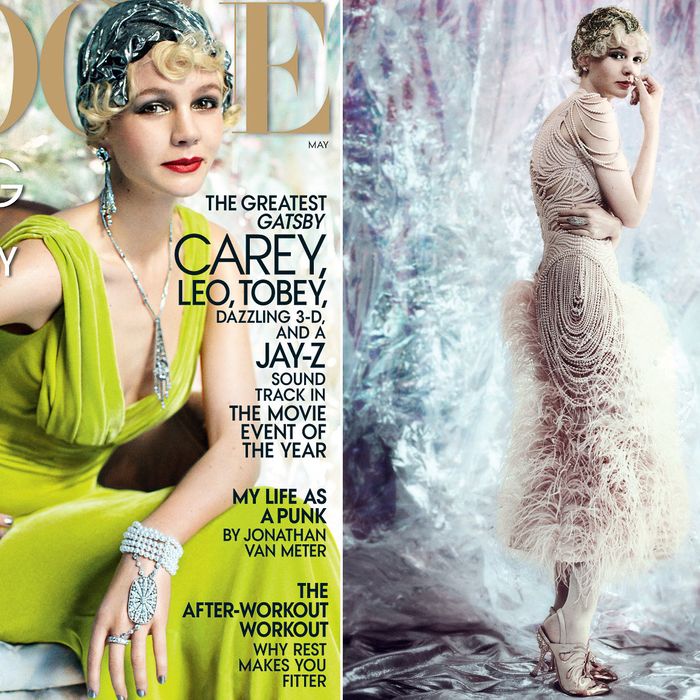 Carey Mulligan for Vogue.
Photo: Mario Testino for Vogue
There was never a question of if Carey Mulligan would get a Great Gatsby–pegged Vogue cover, but when. The mutual back-scratching between Anna Wintour and the movie's director, Baz Luhrmann, began well over a year ago, when the film was still expected to come out last December: Luhrmann created all the videos for the Met Costume Institute's 2012 "Schiaparelli and Prada" exhibit, and Mulligan co-chaired the corresponding Met Gala. Meanwhile, Miuccia Prada herself helped Luhrmann's wife, costume designer Catherine Martin, design the film's wardrobe. It seemed like a sad waste of all the Met-related publicity when the movie's release date was pushed back to this summer, but here we are, and here's Mulligan's cover, finally.
Things to learn from the profile, besides that Mulligan showed up to her Vogue interview in a hole-y sweater and said she's come from a pasta-cooking class:
- Baz Luhrmann reportedly saw Scarlett Johansson, Michelle Williams, Blake Lively, Keira Knightley, and Natalie Portman for Mulligan's role of Daisy, but Mulligan had the best chemistry with Leonardo DiCaprio, so she got the part.
- Mulligan found out that she landed the Daisy role at the 2010 CFDA/Vogue Fashion Fund Awards, literally right after she'd announced the winners onstage. Luhrmann called her on the phone and she burst into tears.
- After she found out that she'd gotten the part, Mulligan went out and "partied until the early hours" with the Olsen twins, of all people.
Obviously, Vogue made Mulligan take off her old sweater and put on some sparkly, Daisy-worthy outfits for their spread, which is gorgeous. This movie should be a treat.