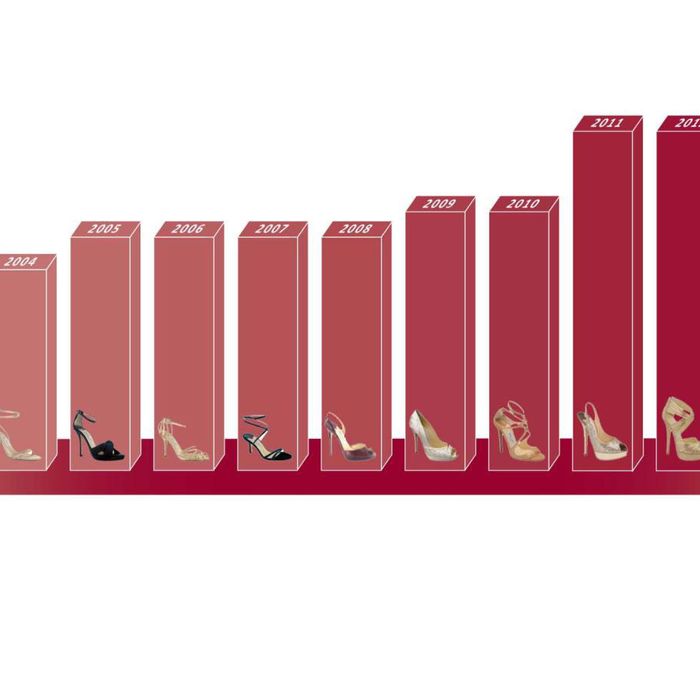 Jimmy Choos get higher and higher.
Photo: Emma Woolley/Courtesy of Jimmy Choo
Jimmy Choo has been a red carpet favorite since it began in 1996, but the brand's ubiquity at awards shows this year was particularly noticeable. It was as if a Jimmy Choo fairy visited the homes of every A-lister before a major event. At the Oscars alone, the brand was worn by Sally Field, Kristen Stewart, Halle Berry, Naomi Watts, Jane Fonda, Sandra Bullock, Jennifer Hudson, Robin Roberts, and others. Beyoncé and Taylor Swift both wore them to the Grammy Awards. Michelle Obama wore them to the Inaugural Ball. And the list goes on.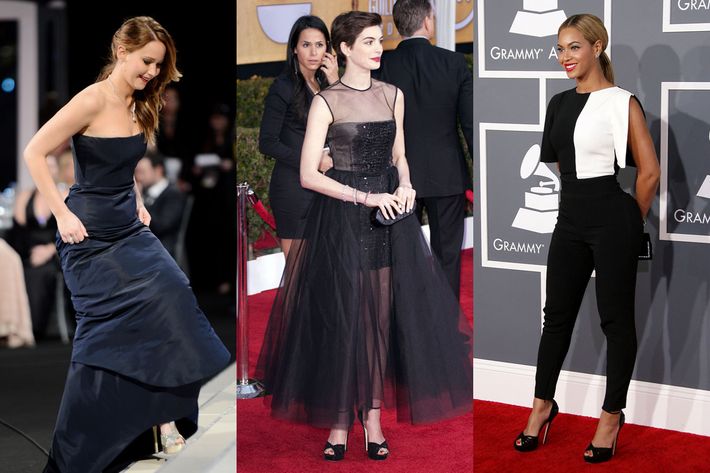 So what's the magical Choo touch that make it THE shoe for red carpets? Creative director Sandra Choi thinks it's about providing extra height without making a platform too obvious. "People just love to look taller!" she says. "It's an easy way of getting yourself to feel better." Over the past decade, she's witnessed celebrities ask for higher and higher heels, as you can see in the chart above, which shows the most-requested shoes and their corresponding heel heights.
"What we're designing is an illusion," explains Choi. "Often the platform is very big, but we've made it look about half its size. The visual effect is one of height and length, not a thick sole." And even though platforms have been avoided by runway designers lately, they're still big on red carpets because celebrities want to eke out every extra millimeter when they're in front of the cameras.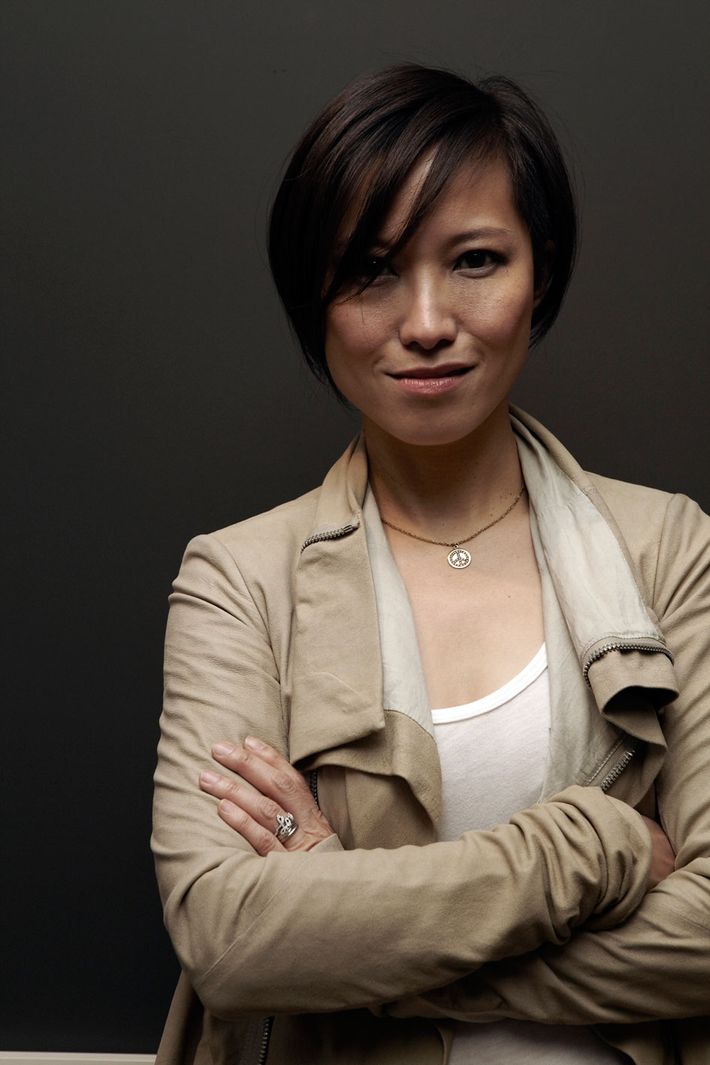 But what's popular on the red carpet isn't necessarily practical for customers. Tales of shoes flying off the shelves after a famous person wears them simply aren't true, in Choi's experience. "It's more about brand recognition than it is about a specific shoe," she says, adding that their best-selling design is actually a very simple, single-sole pump called the Anouk.
Nevertheless, the company is capitalizing off their red carpet success this year by debuting an event-themed collection next month. Called "The Season," the collection includes strappy sandals trimmed with floral appliqué, a raspberry-colored satin lace-up bootie, and lots of neons, rhinestones, and lace. "We knew that people would see our shoes at the Oscars, and then come spring, you need shoes for weddings and other social events," says Choi. But don't expect to find many platforms for sale: "I think the single sole is definitely here for a little bit, in terms of what consumers will buy," she adds. 
Read on for a full Q&A with Choi, who's been sticking to trainers lately, as she's seven months pregnant with her second child.
What's the process like when a celebrity is deciding to wear your shoes? Do you meet with them or talk to their stylists?
We do both. We have a fantastic team of publicists. It's always a collaboration. Sometimes we do a wardrobe for someone who's on tour for a concert. My PR team just does a great job of engaging with stylists, and we have a variety of products that we can offer to support whatever look they're going for. It's very normal for us to get a phone call from a stylist saying they'll need certain colors and certain designs to enhance or finish a look. I do still get starstruck, though. I remember the first Oscars, when Halle Berry wore that burgundy gown from Elie Saab and walking around with her Oscar award. She arrived at one of the events and I actually touched the Oscar because she was right in front of me wearing a pair of our shoes that we custom-made for her.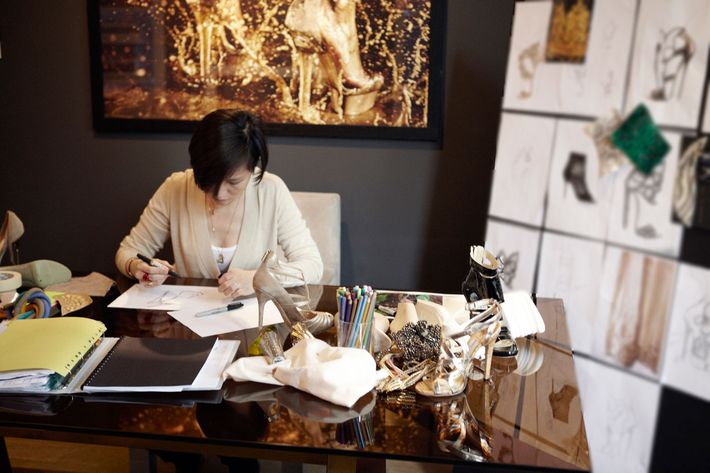 Why have heel heights gotten so high over the past decade?
Celebrity culture has become so much stronger in the last decade, and you'd be surprised how average-height many celebrities are. They're not as tall as models. That extra heel height gives them a lot more presence and confidence, and makes their gowns look better. It's been a gradual growth, too. Now we look at a four-inch heel and think, Is that really a four-inch heel? We've become accustomed to it, bit by bit. 
A lot of runways showed shorter heels this season, and not many platforms. Do you think we'll start to see a shift back down to earth?
Consumer fashion trends are different from what celebrities wear to be photographed at events. We haven't seen a different take on the platform just yet in red-carpet dressing. In terms of trends in fashion, we're always in search of something new to buy, so height comes and goes. And right now, because we've had platforms for so long, people are shifting to the single-sole.
What makes for a flattering shoe?
I fancy myself an architect, or a tailor. One of the hardest things to do is a plain pump, but just adding a millimeter here and there makes a difference. And where straps land on your foot is very important. Feet are a very sexy part of your body. When you point your toes and lift your arch, the entire balance of your legs and posture becomes more stern and serious, and often your clothes fall better on your body. We make sure we don't put a strap across the ankle so that it makes your leg look short. And talking about comfort is not very sexy, but our shoes do fit well, and that makes a difference when you need to stride around and look confident.
Do you try on all the shoes yourself?
I do! I'm a little obsessed with how they look. We have a joke that everyone who works for the team must have a size 37 foot so that they can try on the shoes for me. My right foot is a size 37, my left foot is a little smaller.