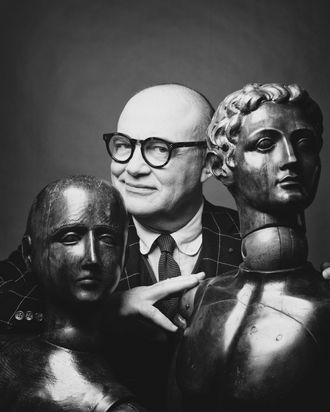 Photo: Courtesy of Maison Schiaparelli
At long last, Italian fashion magnate Diego Della Valle has clarified the designer strategy for the storied house, whose trademarks and archives he purchased in 2006, and whose relaunch he announced after 2012's Schiaparelli-and-Prada-themed Costume Institute Gala. According to a press release, in July, Monsieur Christian Lacroix "will pay homage to the Schiap legend by interpreting her iconic creations while perpetuating her timeless image" with a fifteen-piece collection presented at 21 place Vendôme, Elsa's former headquarters.
Of the designer, Lacroix said, "In this persona incarnating a true aristocrat, one finds a spirit where mathematics and literature as well as poetry coexist: Elsa is a sacred sphinge who never ceases to interrogate us while offering us new enigmas as answers. Art, theater and cinema … my wish is to reposition Elsa at the center of her maison and on the stage from which she once seduced the world." Lacroix is a smart pick to produce the first garments for the house in nearly six decades. True, he filed for bankruptcy in May 2009 and his own maison shuttered shortly thereafter, but experts claimed his business relied too much on couture to survive in a world of ready-to-wear and lower-priced accessories. Schiap is presenting him with an opportunity to do those things, and in July — likely during Paris Couture Week — no less.
Following Lacroix's homage, "a long series of different artist contributions [will take] place in succession at the Schiaparelli Maison," and, "the maison will also develop collections by the future artistic director of the Schiaparelli maison," per the release. Della Valle and co. might be on to something with the "series of different artist contributions." Schiap was so affiliated with the characters of the thirties and forties (Man Ray, Jean Cocteau, Marcel Duchamp, Salvador Dalí, Marlene Dietrich, and Mae West, to name a few), that tasking a single designer with emulating her M.O. would be too much. Plus, a truly shocking artistic director is hard to come by these days.