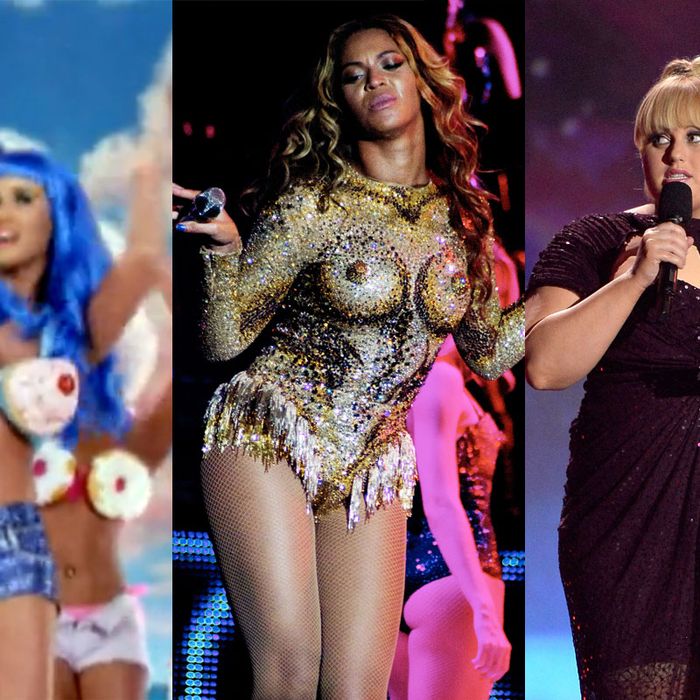 Photo: Youtube.com; Splash News; Getty Images
Last night, Beyoncé debuted a crystal-studded concert leotard designed to replicate the shape and colors of her chest, breasts, and nipples. Two nights ago, Rebel Wilson had a "double nipple slip" on the MTV VMA stage, revealing a double-nippled fake breast worn over her real breast. Are fake boobs over real boobs a trend? Do they require NSFW warnings? How on earth is Katy Perry going to top this? Cut Charlotte and Cut Maureen explore.
Maureen: So what do we make of Beyoncé wearing bedazzled fake boobs over her real boobs? It's like a couture version of those trashy trompe l'oeil bikini cover-ups you see on Spring Break and at Halloween frat parties.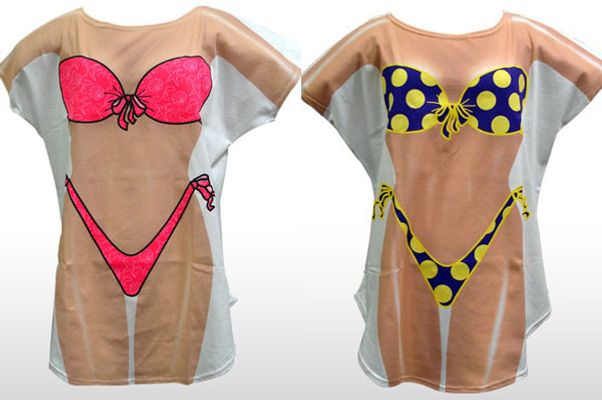 Maureen: But for the trompkini, the humor is in the incongruity between what's on the shirt and what's underneath. Whereas Beyonce's leotard is more like a bling-ed up version of the hot bod we know is underneath.
Charlotte: True, but even trompkinis don't show nipple, and Beyoncé never has, either. But this is hardly a big leap from her standard performance-wear. She's basically just taking her usual corseted leotard to the next level. Even sequined boobs have been done before — as a commenter points out, Kylie Minogue wore a similar trompe l'oeil look for a photo shoot a few years ago (it's unclear if this was related to her breast cancer recovery, but it's a likely reference).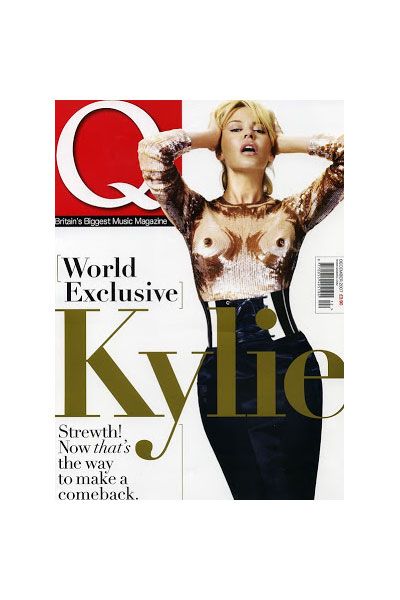 Maureen: Interesting that both have high necks and long sleeves. They're highlighting upper-body anatomy while actually covering all of it up — my first reaction is shock, followed by confusion about why I feel shocked.
Charlotte: Right, it's almost like fake nudity. This concept has been explored a few times in high fashion, too — Jean Paul Gaultier did a sparkly full-body "naked" catsuit back in 1992, complete with faux pubic hair. (Beyonce's not at that level yet, obviously.) And nipple adornments are pretty common on runways. The Blonds, which dresses pants-haters like Britney Spears, Katy Perry, and Nicki Minaj, shows them almost every season. So maybe it was only a matter of time before Beyoncé gave this look a whirl.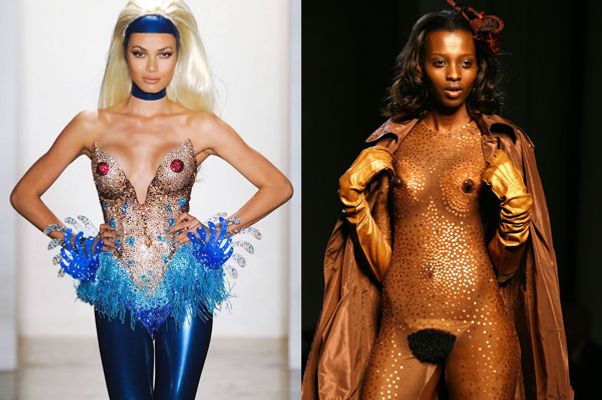 Maureen: I think I'd be more embarrassed wearing that Gaultier outfit than if I were actually naked. It demands attention. Like Katy Perry's cupcake bra, which is funny for the same reason that getting a nipple-sized food stain on your boob is embarrassing — even though onlookers have no new nipple knowledge, they are forced to think about your nipples, for as long as the pseudo-nipple is in their lines of vision.
Charlotte: Right, it's more titillating than the real thing.
Maureen: Sometimes it's uncanny, like Rebel Wilson's "double nipple slip" at the MTV VMAs.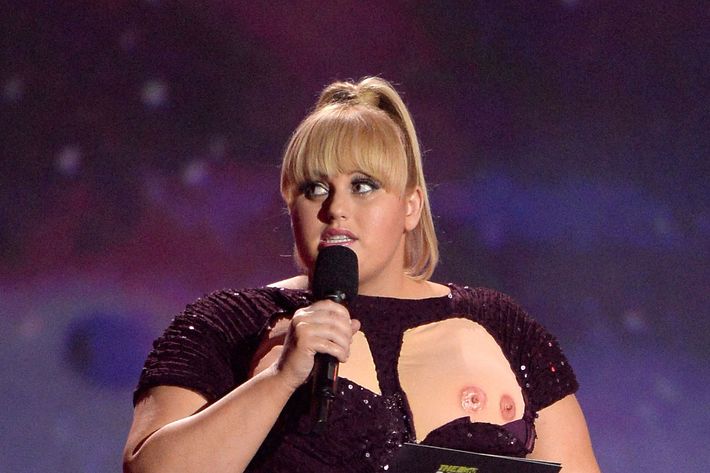 Maureen: Some news outlets blurred Rebel's fake double nipples. At what point do trompe l'nipples require NSFW warnings? In some ways, nipple simulacra are more confrontational than the real thing. Whereas naked breasts can't help how they look, trompe l'nipples purposefully provoke. Like how Janet Jackson's Super Bowl nipple shield suggested forethought.
Charlotte: I've always thought it was odd that nipples marked the difference between what's "appropriate" to show in public and what's not — to the point where photo editors actually airbrush them off magazine covers. Trompe l'oeil nipples complicate that, for sure.
Maureen: On the other hand, if illusion nipples become a trend, the DIY guides on Pinterest would be amazing.