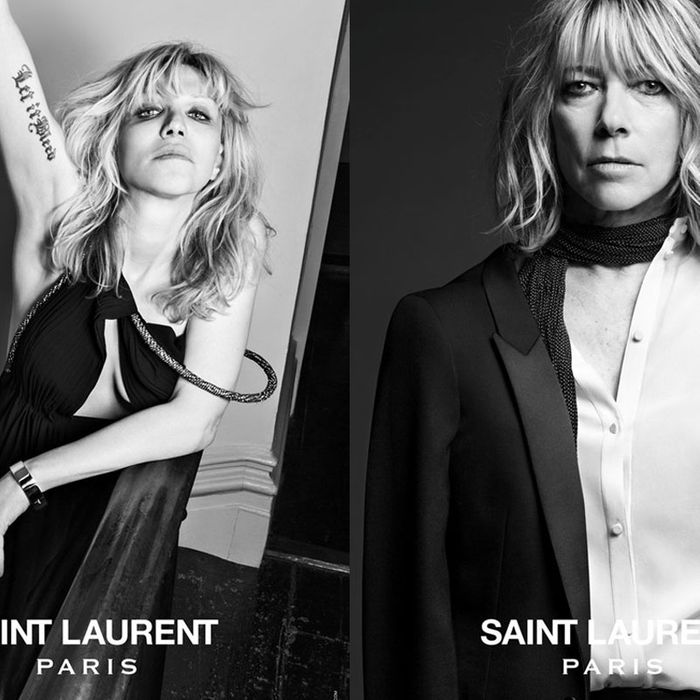 Courtney Love and Kim Gordon.
Photo: Saint Laurent
Saint Laurent's new alt-rock-themed campaign, titled "The Saint Laurent Music Project," debuted yesterday with Courtney Love, Marilyn Manson, Ariel Pink, and Kim Gordon. Today, WWD reports that Gordon selected her own outfit for the shoot — a half-on, half-off tuxedo jacket, a leather skirt, jewelry from Saint Laurent's Vermeil collection, and Slimane's very own knotted scarf — because Kim does what Kim wants.
Speaking of, Love discussed Saint Laurent in an interview with Wonderland, which was published today but seems to have been conducted prior to the ads' release, as she doesn't refer to them at all. She does, however, clarify that tweet about Slimane's latest collection, "having gasms at the idea of rich ladies buying what we used to wear":
I just find it hilarious that in three months time or however long it takes, women are gonna pay six thousand dollars for a fucking trench coat that cost us $4.99 back in the day. He got that look absolutely right. It's not my look — I've never worn a Doctor Marten in my life, thank you very much! My feet are already big enough and I'm already too butch … If Hedi makes me his muse, that's great. And I really, really, really love the pre-fall and the first Saint Laurent seasons — that's my uniform for onstage. They could've been a little more generous with the blouses, I have to say!
But the real question is, were they generous enough with that fur coat from the campaign shoot?