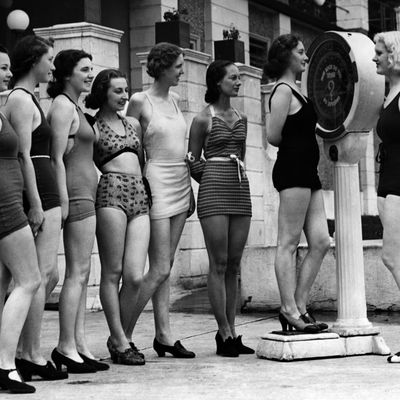 One of the hazards of checking Twitter early on Saturday mornings is stumbling into a weekly online weigh-in for guys on diets. "My weight: 206 lbs," says a New York Times reporter. "16.2 lbs to go" says a Google Ventures partner. "My fancy scale plus public shame should help me lose weight," says a video game producer who currently weighs 186. "Please don't laugh." Or, as another guy explains it: "My @Withings scale autotweets my weight once a week. It's the future!"
These men may not be acquainted, but they're brought together each weekend by their Withings brand "smart" scales, which are programmed to automatically tweet their average weekly weight to their followers.
"Withings WiFi Body Scale transmits your shame to the Internet," is how tech blog Gizmodo described the French-manufactured scale in 2009, and coming across its dispatches can still feel like intruding upon a private ritual. But this technology is at the center of current weight loss innovation, which uses high-tech calorie counters, activity trackers, and social networks to make dieting more accurate and dieters more accountable.
It is probably not coincidence that most members of the Withings weekend weigh-in club are men. Once the journal-bound misery of women, dieting has in recent years morphed into a preferred playground of the male-dominated startup scene. By combining tech trends like GPS, gamification, the data-driven self-help of "the quantified self," and old-fashioned oversharing, weight loss has become just another chore in need of hacking.
"Is there *any* piece of hardware that can measure a human's daily intake of calories, carbs, fat, and sodium?" Foursquare founder Dennis Crowley, a Withings scale user, recently asked Twitter. "Any prototypes even?"
Not yet. What there are instead are many, many social dieting networks — like MyFitnessPal, a calorie counter, and FitBit, which aggregates data from its own proprietary line of scales and activity trackers. These apps subscribe to the current thinking about weight loss, which is that dieters who keep food diaries lose more weight than those who don't and that dieters who exercise with friends lose more weight than those who go it alone. Each meal, workout and weigh-in is logged in a private social network that prompts dieters to broadcast their achievements, however mundane, with Facebook posts and branded hashtags. A MyFitnessPal user will report that he "completed his food and exercise diary and was under his calorie goal" for the day, while a FitBit user will brag that he climbed enough stairs to earn a "Hot Air Balloon Badge." This is dieting, imagined by dudes. No emotional baggage to work out at group meetings, no Photoshopped body ideal to unlearn, and no embarrassment.
Such diet-casting worked for New York Times reporter Brian Stelter. He lost 90 pounds in 2010 — years before the rise of apps with the word "fit" in their names — by tweeting lists of everything he put in his mouth. "I knew I needed a buy-in so I would be held accountable," he says now. At first, real-life friends and colleagues supported his goal by calling him out when he would stop tweeting, which was typically because he had made "a tray of cookies or ordered a big pizza." Later, he developed online-only weight loss friends, who were even more supportive than real-life friends because "they were going through the same thing."
Behavioral psychologists say incentives like Stelter's "buy-in" dramatically increase one's chance of achieving a goal. Money can be an incentive, as with StickK, the commitment contract site that will send money to a cause you don't support, say, a pro-life group or the NRA, if you fail to lose weight, or Gympact, which takes five bucks from you when you blow off a workout. But so can reputation, and that's where social media is more helpful. Take GymShamer, a Twitter and Foursquare app that will inform all your followers you slacked off and skipped the gym. Creator Tal Flanchraych says the app fixes the problem of most goals — there's no consequence for not achieving them. For many, the threat of losing face in front of one's Twitter followers is a stronger motivator than a reward like better health. "Is that rational?" Flanchraych asked. "No, but that's humans for you."
Fitocracy, another social network for gym rats, was founded by two young men — one chubby, one skinny — who met in a University of Pennsylvania weight room and trained for the Mr. Penn bodybuilding competition together. "We both approached fitness like it was a game," founder and chief growth officer Richard Talens recalls. Fitocracy borrows World of Warcraft's addictive qualities (quests, badges, user-generated guides), and boasts user engagement stats that are second only to Facebook. Its membership is 55 percent male to 45 percent female, but women are joining the power lift-crazed ranks at a faster rate than men. Mallory Hagen is a vocal Fitocracy user, Talens bragged, "and she ended up winning Miss America."
There aren't hordes of women rushing to share their weights and the caloric value of their lunches with the world. But more of them are now taking advantage of the elements of gamified, public dieting. Some do so in semi-private social dieting apps that are closed off, including only groups of people they know or strangers with similar goals.
FitBit says it sees an immediate bump in a user's daily physical activity after they add another user to the internal leaderboards that sync their physical activity and rank them. "I, for example, compete with my husband to see who's taken the most steps each week," says Lindsay Cook, marketing manager for the start-up, whose San Francisco office has a treadmill desk, as well as Zumba and Yoga Booty Ballet classes. Competitors can send one another pre-programmed "cheers" and "taunts."
Self magazine's social diet app, Drop10, asks users to form a diet group with Facebook friends and gives them a place to share food diaries and workout plans, walled off from the rest of their lives by the orange and pink app. Users are prompted to broadcast their activity to Twitter or their newsfeed, and those who do might be rewarded with personal interaction (cheerleading, custom tips, and permission to take the day off) from Self's editors and diet and nutrition experts. "Everyone slips up, and we're there to be able to give you a pat on the back," Self social media editor Stephanie Miller told the Cut. "Honestly, that goes a long way."
Then there are the vast DIY fitness social networks that have cropped up on Twitter and Tumblr, a.k.a. Fitblr, where, unlike Stelter, most elect to hide behind pseudonymous handles, using neck-down before and after photos for avatars and three numbers for their bios — starting weight, current weight, and goal weight.
Stelter's girlfriend, New York 1 Traffic Reporter Jamie Shupak, would never tweet everything she ate, but she thinks a Twitter food diary — whether public like her boyfriend's, or more private — is on a spectrum of social media dieting that includes people who use Foursquare to check in to the gym, friends who post photographs of their meals on Instagram, and her own recipe blog, The TV Dinner. "Health is super-important to me so I love any encouragement Brian and I get or give when we see other people doing it," she says. (The pair unintentionally gave each other Nike Fuel Bands for Hanukkah and Christmas last year.) "But sometimes I'll tweet an inspirational quote from my yoga teacher and I'm sure a lot of people roll their eyes, like, 'Thanks, Jamie, we really don't give a shit that you went to yoga. Enough of your #summerbody tweets from Spin class.'"
In that way, public dieting combines people's best and worst tendencies on social media. It helps struggling dieters find virtual support networks, but embraces their ability to shame one another. It gathers useful diet-related data, but encourages people to disseminate it via overshares and humblebrags. As a result, even non-weight-conscious people are subjected to the metabolic minutiae of increasingly quantified friends. It's easy to avoid Vogue if it makes you feel bad. But what if the women in your social networks became a bunch of self-styled Bridget Joneses?
You might learn to save yourself some time and spare yourself some anxiety, like Julie Fredrickson, co-founder of social gaming platform PlayAPI, did. After years working in the fashion industry, Fredrickson was adamantly opposed to weighing herself. But through other members of the "bro-y" tech scene, she was converted into a Withings-scale-using, Fitocracy-minted power-lifter who tracks macronutrients (the ratio of calories she gets from carbohydrates, proteins, and fat) and shares the stats with her co-founder and her mother each day.
The way she see it now, tracking weight and intake can mitigate the body-image concerns that disproportionately preoccupy women, putting them at a mental disadvantage."Once you write it down, you no longer need to hold it in," she explains. "You don't need to say, 'Am I eating right? Am I being a good woman?' You can just let it go."
To her, the more public a woman's diet is, the more honest she is about the sheer work demanded by a beauty standard that women are penalized for not meeting. Followers may roll their eyes at the social dieter's nonsense fitness badges and Instagram rainbows of Blueprint juices but "that's the reality of what skinny women do," Fredrickson says. "We just don't want to be told about it. People don't want to believe the picture isn't real."