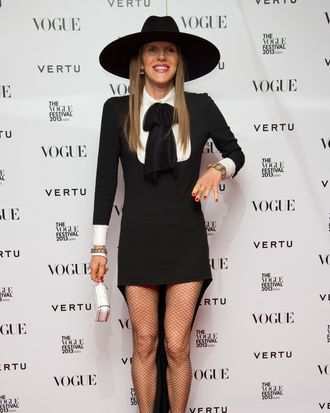 Photo: Ben A. Pruchnie/Getty Images
Anna Dello Russo, Susie Lau, and Garance Doré came together for a discussion at London's British Vogue Festival over the weekend. Though Lau wore neon (a Stella McCartney knit and Christopher Kane clutch), it was impossible to divert attention from Dello Russo, who arrived in head-to-toe black Saint Laurent — including hat and fishnets — like a fabulous widow on her way to a cabaret-themed funeral.
Dello Russo remembered her first encounter with Sartorialist founder Scott Schuman and the joy she felt when fashion bloggers first began appearing outside shows. "All of us in fashion understood: Something is going on," she explained. "We see these new people … I was fascinated, because I thought, Finally, fresh air arrives! It was the right moment, because fashion was too much cold and corporate … And these little girls [the bloggers], they come and ask, 'May I do a portrait?' and I thought, This is really new. It was the new paparazzi, approaching people always gently. I remember Scott the first time he approached me — he was a gentleman."
She also painted a tantalizing mental image of cozy nights in with best friends Schuman, Lau, and Doré, whom she invited to her house, "like best friends. I felt comfortable because [blogging] was a new way to look at fashion, describe fashion and enjoy fashion … I was so obsessed and I was like the only one, and when all these people came I said, 'Oh! We can share the same obsession!' … It was so comfy."
Elsewhere in the discussion, fellow speaker Doré hit a more serious note, voicing concerns that bloggers have lost their outsider status, and perhaps the connection with their audience:
We have more access to shows. With power comes more problems. Trying to stay free is difficult — it's so easy to lose touch with who you are, because you think, I need to keep being successful. You can become very detached from your audience and from the reality of what people were looking for when they came to your blog. So it's all about trying to stay connected to that. It's a real exercise, and it's something I'm thinking about every day. [When I created my blog] I would look at magazines and I have to say I felt so detached. I was like, This is beautiful, but I don't understand who these people are. It's not my life. That's why I created my blog, because I wanted to talk to people I could connect with, so I'm trying to keep that alive.
Dello Russo also seized the opportunity to restate her stance on casual clothing. When asked whether she dresses more casually on the weekends, she said as a rule, she does not, "but when I do yoga, I wear Abercrombie pants." No news on whether she keeps these in her clothes apartment, or her regular apartment.