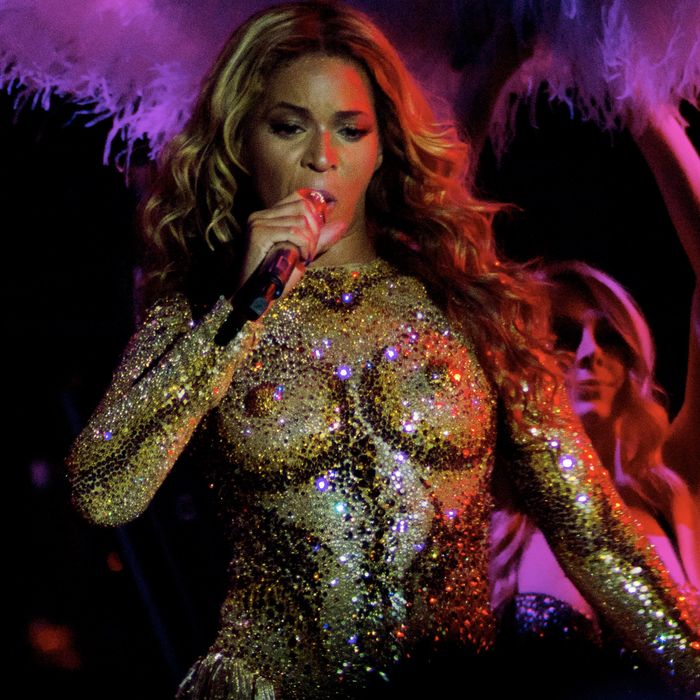 Beyonce.
Photo: Kauffman/GoldenEye/Splash News
Beyoncé commenced her Mrs. Carter world tour in Belgrade, Serbia, last night with the plethora of spandex, fishnet tights, and sequins you knew to expect. Even though we've seen different iterations of the same glittery bodysuit on her a million times, it never gets old, does it? But Beyoncé has a propensity for fun wardrobe surprises — at the Super Bowl, she ripped off her lace skirt and flung it into the audience — and this time her big "ooh" moment took the form of a sequined leotard with trompe l'oeil abs and breasts, complete with sparkly golden nipples. Ahhh. Just when we thought we'd seen all of Beyoncé, we get to see … an anatomically correct version of her nude torso, rendered in metallic embellishments! The same outfit had beaded fringe at the bottom that flew around when she shook her butt. It was very dramatic.
The confirmed designers behind the Mrs. Carter world tour include Julien Macdonald, Dsquared2, and Pucci, but so far it's unclear who designed which look. What's more, there may be some Givenchy in the mix! Which makes sense, considering Bey and Riccardo Tisci are old pals, and they're co-chairing the Met Gala together this year. Click through our slideshow and be dazzled.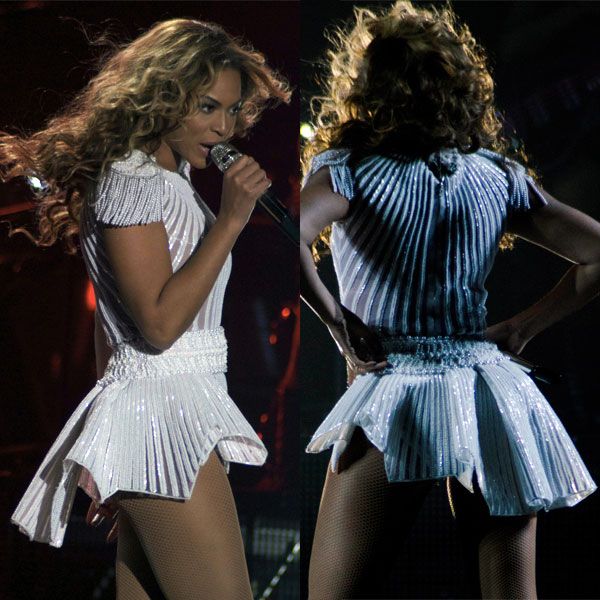 Note the white epaulets! And although that skirt resembles a lampshade for her butt, it looks like a nice lampshade. Designer Ralph & Russo says it's embellished with crystals and pearls.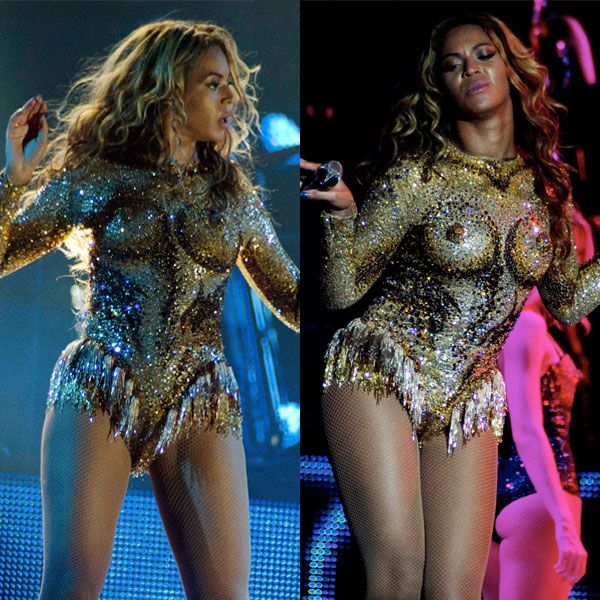 As if Michaelangelo sculpted her from sequins. Update: This outfit, by the Blonds, was inspired by a Tamara de Lempicka painting.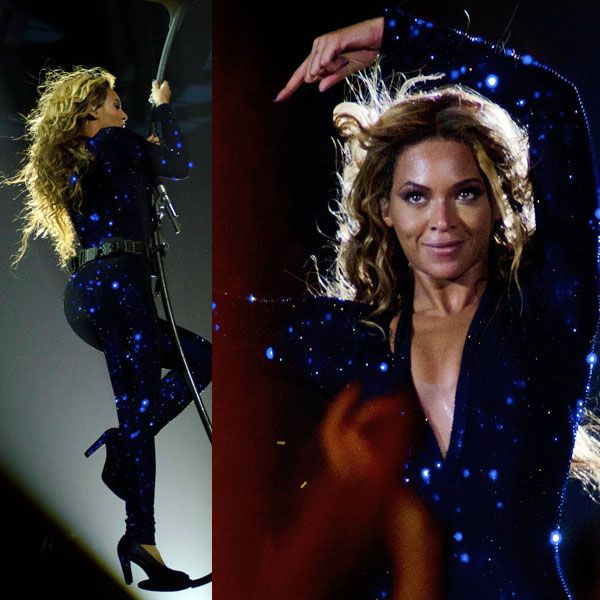 Does the world need another picture of Beyoncé descending from the ceiling in a glittering, full-body spandex bodysuit with a plunging neckline? IS THAT EVEN A QUESTION? Update: This was designed by Vrettos Vrettakos and Dennis Kolpodinos.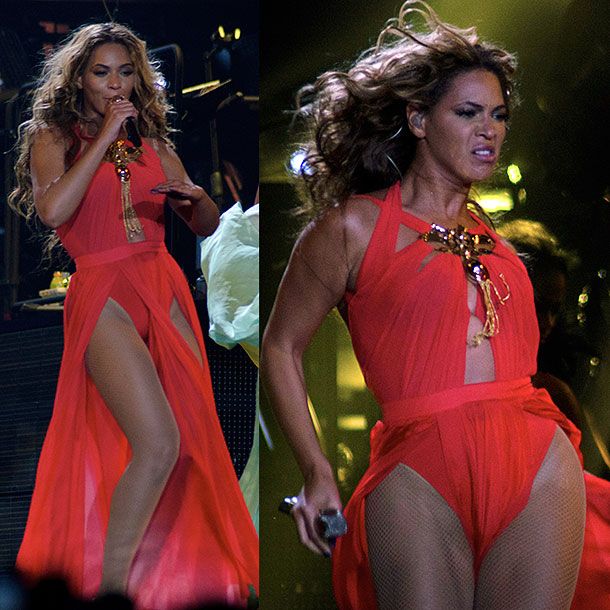 A personal favorite. The golden cleavage-tassel is mesmerizing, and the flowy skirt adds extra drama to her stomping. Update: It's designed by Alon Livne.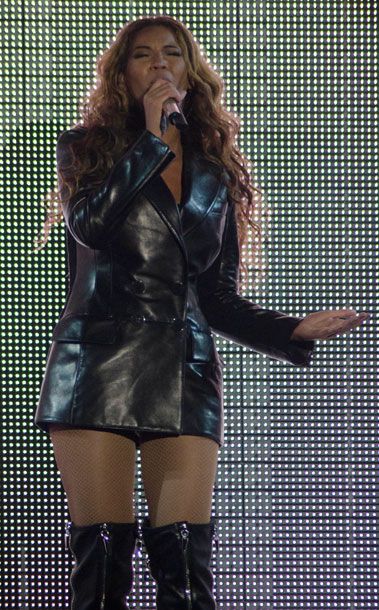 Even Beyoncé needs to cover up sometimes. This jacket-and-thigh-high combo is by Pucci designer Peter Dundas.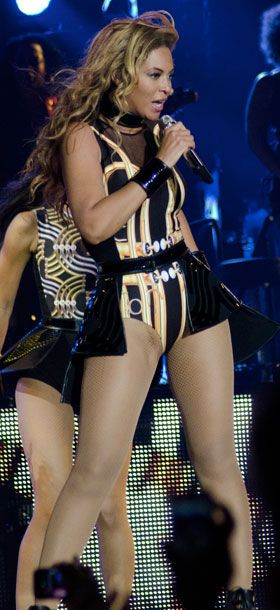 This strap-on leather skirt looks cool, and ripe for some tear-away action. Update: It's designed by David Koma.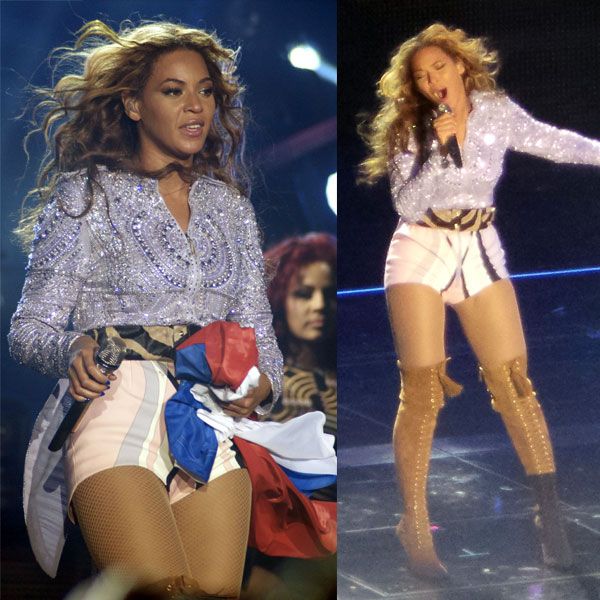 Another Pucci number, with a clear "X" over her crotch. In case you don't know where to look, check out those suede lace-up boots with the knee tassels.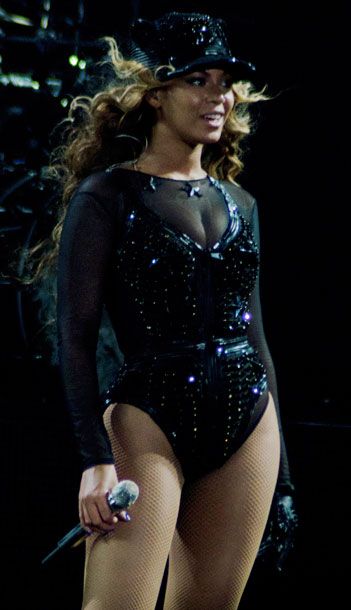 This sparkly hat has cat ears, like the headwear at Givenchy's fall 2011 runway show. The stars around her collarbone are a nice touch, and also reminiscent of Givenchy designs. Update: Givenchy's Riccardo Tisci, Bey's Met Gala co-chair, confirmed that he did indeed make this look.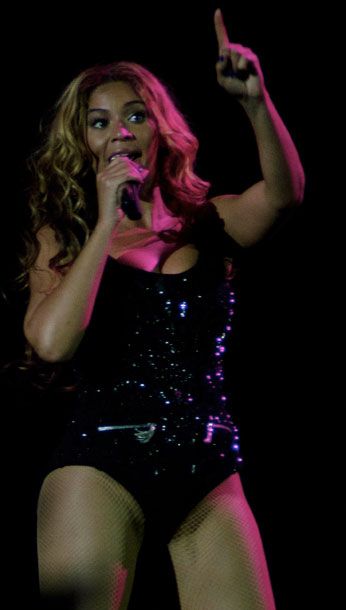 Token black sparkly leotard, also by Pucci. This one has zippered pockets, because you never know.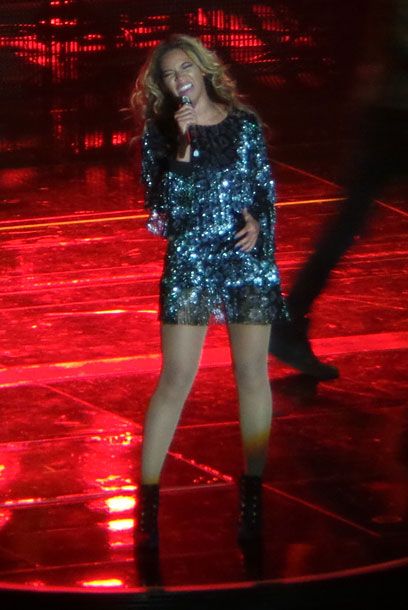 This, on the other hand, looks like something she'd wear out to dinner on a Tuesday. Which is something to be proud of, obviously.