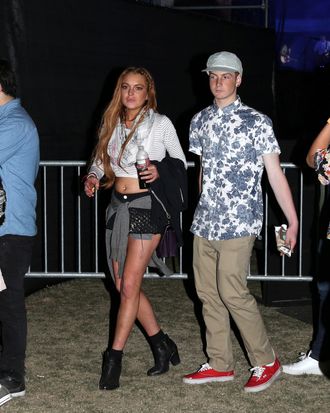 Lindsay Lohan, "who's refusing to go to court-ordered rehab until after Coachella," made her first appearance at the music festival on Saturday. She brought her 16-year-old brother, Cody. Click to zoom in on the above photo, taking special note of the following: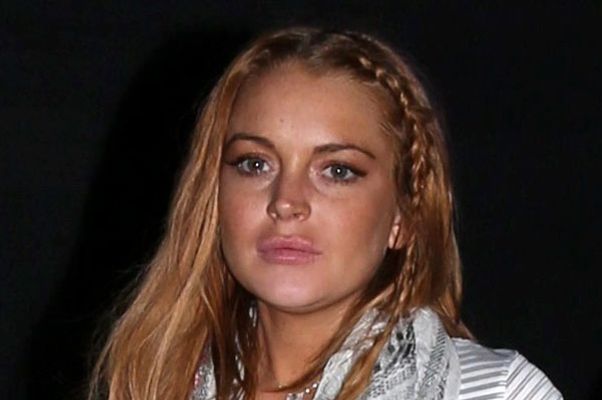 1. Obligatory Coachella mini-braid. In retrospect, maybe her Scary Movie premiere outfit was a Coachella look?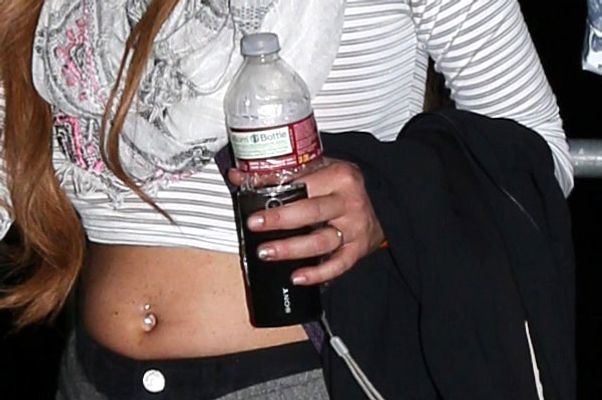 2. Crop top.
3. Ring on ring finger. Expect a "secret LiLo engagement" story in this week's Life & Style.
4. Ring in belly button. Expect a "secret LiLo treasure troll engagement" story in this week's Life & Style.
5. Is that a handheld Sony camera? Who even uses cameras that aren't attached to phones anymore? You can't even Instagram from something like that. (Can you?)
6. Silver nail art on ring finger only. Wait, maybe she is engaged — nail art on Pinterest has led me to believe you're supposed to save ring finger nail bling for marriage.
7. God, those hair extensions are long.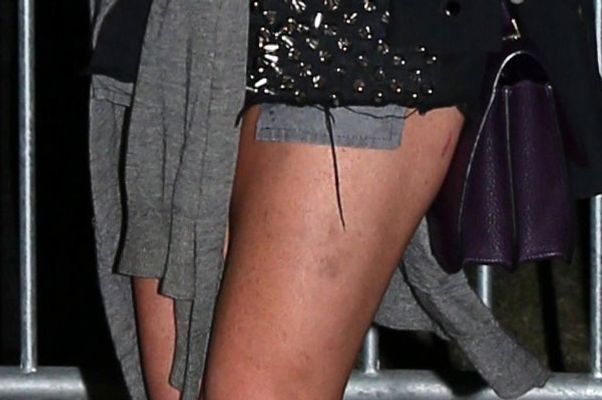 8. Hey, those bruises aren't so bad, anymore.
9. But she's totally going to injure herself on those spiky shorts, isn't she?
10. What's that laceration on her butt?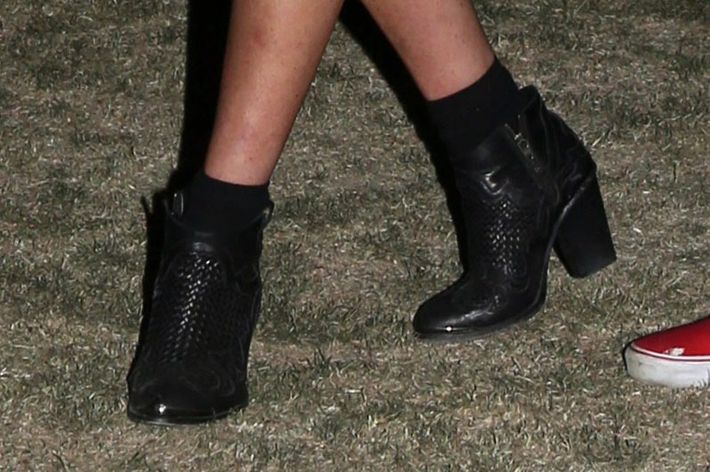 11. I'm glad she has socks on. Too often, girls feel compelled to go without socks when wearing boots with shorts, because we have been taught to avoid breaking up the vertical lines of the leg. But this is folly. When the weather is warm enough for shorts, it is warm enough for foot sweat. Leather boots without socks in that climate means your feet will reek.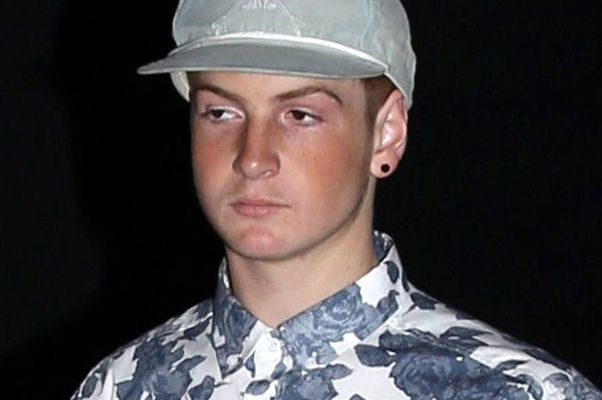 12. Cody, the youngest Lohan, has earring(s). Gauged earring(s)? Or just normal earring(s)?
13. Cody, the youngest Lohan, is wearing a Saturdays shirt.
14. Cody, the youngest Lohan, is wearing his shirt buttoned all the way to the top, which is stylish right now.
15. Cody, the youngest Lohan, has really good eyebrows.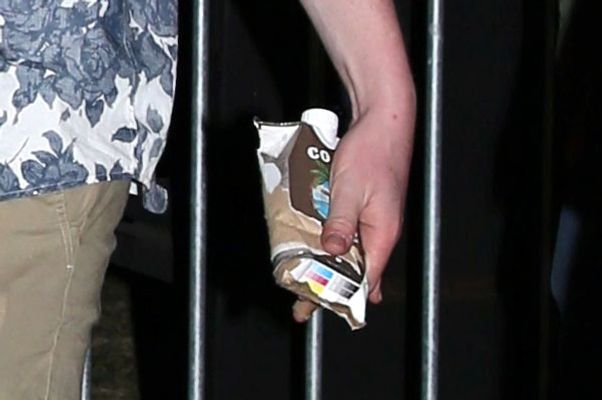 16. Cody, the youngest Lohan, is drinking Coco Cafe, a beverage that consists of coconut water, milk, and espresso. It amounts to caffeinated coconut water. Are you for or against caffeinated coconut water?
17. On Saturday, @codylohan tweeted, "coked out w/ @lindsaylohan at #coachella." Four people retweeted it.
18. On Wednesday, @lindsaylohan tweeted, "surfs up B :) @codylohan http://instagr.am/p/OI7WrOJc0o/" 184 people retweeted it.